BERNHARD BRUNGS MAUVAIS SANG - SCHLECHTES BLUT 28. + 29. APRIL 2007 ANNA-CATHARINA GEBBERS | BIBLIOTHEKSWOHNUNG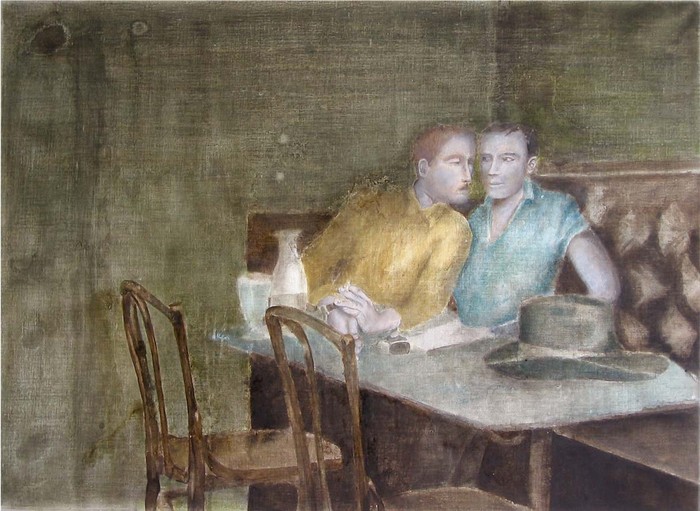 Bernhard Brungs
Genet und Wilhelm Leuschner - Berlin 1937, 2006
Oil on Canvas
65 x 90 cm

/ please scroll down for English text version /

BERNHARD BRUNGS versammelt in seiner Einzelausstellung MAUVAIS SANG – SCHLECHTES BLUT zum ersten Mal einen neuen Zyklus von Arbeiten, die sich um mehr oder weniger fiktive Zusammenkünfte v.a. literaturgeschichtlicher Persönlichkeiten drehen. Der Titel "Mauvais Sang – Schlechtes Blut" verweist auf ein Gedicht von Arthur Rimbaud (1854-1891) und verortet diese Treffen in der spezifischen Epoche des Symbolismus auf der Schwelle zur kapitalistischen Moderne. Literarische Motive und historische Begegnungen spiegeln sich hier auf sensibel gemalten Leinwänden wider.

Bernhard Brungs (*1974 in Bielefeld) hat an der Kunstakademie Düsseldorf studiert und war Meisterschüler bei Prof. Fritz Schwegler. In Köln gründete er gemeinsam mit Svenja Deininger und Marcus Broecker das Projekt "aquarellbluten - Kunst Klub Köln". Seine Arbeiten waren u.a. in den Kunstvereinen Aachen und Braunschweig zu sehen. Heute lebt und arbeitet er in Berlin.

---

The solo exhibition MAUVAIS SANG – SCHLECHTES BLUT by BERNHARD BRUNGS will present a new body of works, that revolve around more or less fictitious encounters between mainly literature historical personalities. The title "Mauvais Sang – Schlechtes Blut" refers to a poem by Arthur Rimbaud (1854-1819) and locates these meetings in the specific era of symbolism at the threshold to capitalistic modernity. Literary motifs and historical encounters are here transferred to delicately painted canvasses.

Bernhard Brungs (*1974 in Bielefeld) studied at the Academy of Fine Arts Düsseldorf with professor Fritz Schwegler. In Cologne he founded the project "aquarellbluten – Kunst Klub Köln" together with Svenja Deininger and Marcus Broecker. His works have been exhibited at Kunstverein Aachen and Kunstverein Braunschweig a.o. He currently lives and works in Berlin.