Anthony Hernandez
19 Jan - 23 Feb 2008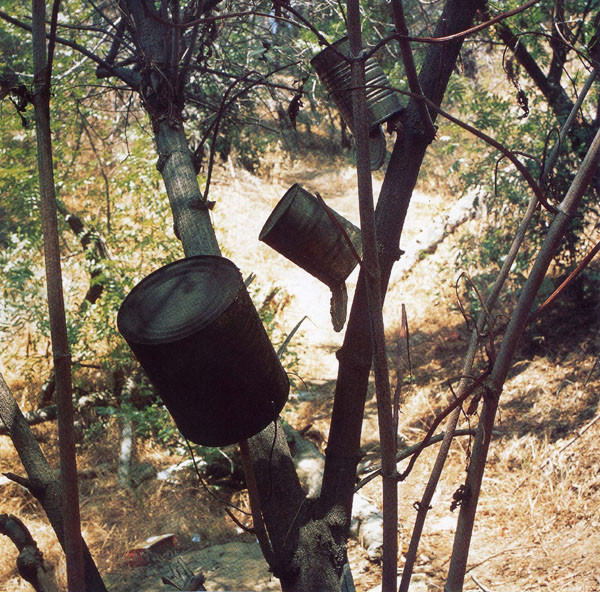 © Anthony Hernandez
Landscapes for the Homeless #59, 1988-2007
endura paper
48 x 47-1/2 inches (image)
50-1/2 x 50 inches (framed)
edition of 7
ANTHONY HERNANDEZ
"Landscapes for the Homeless" and and "BCAM"

Christopher Grimes Gallery is pleased to present Anthony Hernandez' Landscapes for the Homeless. In addition, featured imagery will include new photographs done at the invitation of the Los Angeles County Museum of Art (LACMA) to document the construction of the Broad Contemporary Art Museum (BCAM). He was invited along with Sharon Lockhart, Uta Barth and Miles Coolidge. This exhibition coincides with the opening of the BCAM and the publication of a catalog that will include these new photographs. This exhibition is curated by James Welling, a well-known photographer and professor at UCLA's Department of Art.
For over 35 years, Hernandez has been internationally respected as being one of Los Angeles' most influential and defining figures in photography working in a tradition begun by Jacob Riis and photographers of the Depression. After returning from Vietnam, Hernandez began as a street photographer in the 1960s, using a 35mm camera to photograph figures in black and white in urban spaces. By the mid-Eighties, he abandoned figurative photographs in favor of a new body of work entitled Landscapes for the Homeless. He moved to large-scale photographs of recently unpopulated spaces to include the encampments and makeshift dwellings of Los Angeles' homeless citizens. He explains that,
"Nobody else was looking. And that's why people will see what I've seen...that's what I forced them to do with these pictures. And that's why I first started this work [I thought] it would take people longer to see them, to get them...they weren't pictures of the homeless themselves...The hardest pictures I've ever made were the homeless pictures. I wasn't in a war zone but it was as if I were."
In the South Gallery, Hernandez approaches the construction of BCAM by deconstructing views of its structural components. Set against the sky, steel I-beams splice the composition, resulting in a highly textured yet flattened image that recalls the hard-edge abstraction of the modernists.
Hernandez lives and works in Los Angeles and has exhibited extensively worldwide, participating in exhibitions such as: Visions from America: Photographs from the Whitney Museum of American Art, Whitney Museum of American Art, New York; Flight Patterns, Museum of Contemporary Art, Los Angeles; Document and Beyond, Reina Sofia Museum, Madrid; and Scene of the Crime, Armand Hammer Museum, Los Angeles. His work is in the permanent collections of the Museum of Modern Art, New York; Guggenheim Museum, New York; Metropolitan Museum of Art, New York; Museum of Contemporary Art, Los Angeles; Los Angeles County Museum of Art; and the San Francisco Museum of Modern Art, among many other international collections.