Reynold Reynolds
16 Mar - 04 May 2013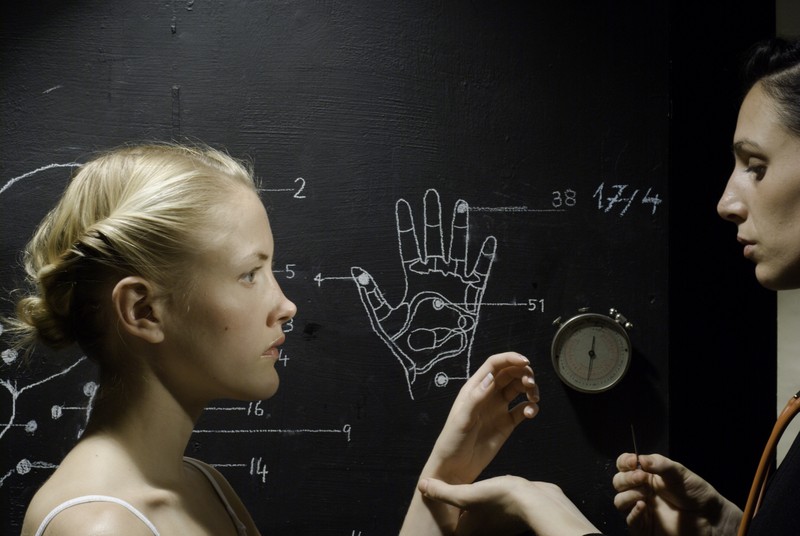 © Reynold Reynolds
Secret Machine, 2009
single channel 14 min. or 2 channel installation 7 min., dimensions variable, HD video transferred from 16mm and photo stills, edition of 5, 2AP, RR002
REYNOLD REYNOLDS
16 March - 4 May 2013

Christopher Grimes Gallery is pleased to announce an exhibition of work by Reynold Reynolds. Working primarily with 16mm film and often employing stop motion or time-lapse photography, Reynolds has developed a distinct filmic language, creating contrived worlds full of powerful pictorial symbols.

In the south gallery Reynolds will present a series of recent video works, where impossibilities are made possible through his signature aesthetic - a lens that can fill one with reverence for the mundane. In order to better understand the nature of time and one's relationship to it, Reynolds subtly alters the regular conditions of life and watches their effect. His depiction of people often makes us aware of the small frames we use to understand reality.

In the main gallery Reynolds will move components of his studio into the space where he will film parts of his current enterpirse, The Lost, in front of a live audience. Film Performances will occur on the following dates, and audience participation is encouraged (exact hours and content of the performances will be announced in advance):

Saturday, March 16
exhibition opening and live Film Performance
Saturday, March 23
second live Film Performance
Saturday, March 30
third live Film Performance
Saturday, April 27
screening of the first version of the feature film

Reynolds (Fairbanks, Alaska, 1966) lives and works in Los Angeles and Berlin. He received a BA in Physics from the University of Colorado at Boulder (1991), and remained in Boulder, studying under experimental filmmaker Stan Brakhage. He completed his MFA at the School of Visual Arts in New York (1995). In 2003 Reynolds was awarded the John Simon Guggenheim Memorial Foundation Fellowship, and in 2004 was invited to The American Academy in Berlin with a studio at Kunstlerhaus Bethanien. Reynolds has received numerous awards for his films and his work has been included in solo and group exhibitions at Haus der Kulturen der Welt, Berlin, Germany; Kunstmuseum Bonn, Germany; and Museum of Modern Art, New York, NY. His work is in the collections of such institutions as Museum of Modern Art, New York, NY; Lyon Museum of Contemporary Art, Lyon, France; and Neuer Berliner Kunstverein, Berlin, Germany.