South African Contemporary Architecture
15 Jun - 02 Sep 2007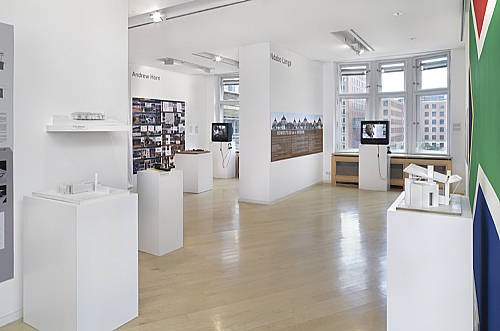 Installation view at Daimler Contemporary 2007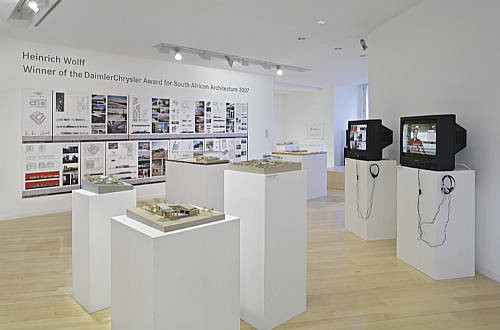 Installation view at Daimler Contemporary 2007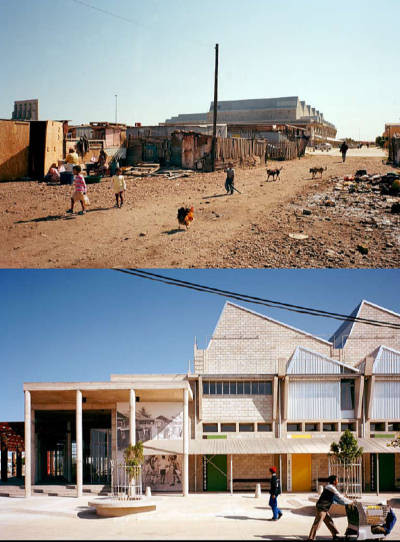 Heinrich Wolff, The Red Museum of Struggle - Port Elizabeth 2005
SOUTH AFRICAN CONTEMPORARY ARCHITECTURE
Daimler-Benz Award for South African Architecture 2007
15 June - 2 September 2007
Prizewinner 2007: Heinrich Wolff, Cape Town
Nominees: archilab (pty) ltd (Michael Borgström, Marco Bezzoli, Ishmaiel Meyer), Thorsten Deckler, Heather Dodd, Andrew Horn, Ndabo Langa, Henning Rasmuss, Chris Wilkinson, Heinrich Wolff (all SA)
The Daimler Award for South African Culture, established to give young people working creatively in the field of culture their first international exposure, is being awarded for the seventh time since 1999. In 2000, the first award went to the Johannesburg artist Kay Hassan. The jazz musician Themba Mkhize won the Daimler Award in 2001, and the artist Jane Alexander was awarded it as the Daimler Award for South African Sculpture in 2002. Jane Alexander's impressive sculptures and photographs were presented at Daimler Contemporary, Berlin, as were Kay Hassan's large-format collages, videos and installations. In 2003 the Daimler Award went to the choreographer Sbo Ndaba, and the photographer Guy Tillim won it in 2004. Tillim has since then been recognized as one of the leading contemporary photographers, his photos series were shown e.g. at the Sao Paulo Biennale 2006 and documenta Kassel 2007. In 2005 Gabeba Baderoon accepted the Daimler Award for South African Poetry, linked with a reading in Berlin and a publication.
The 2007 award in the Architecture field went to the Cape Town-based architect Heinrich Wolff. All the prizewinners were invited to Germany, and were then involved in appearances or exhibitions in various South African cities. A first large-scale publication or CD is part of the prize. The award enabled all the winners to take the crucial step into the international art and culture spotlight.
The eight architects or architecture practices and their major projects from the various South African provinces nominated for the Daimler Award for South African Architecture are being presented in Berlin through the summer 2007, followed by major exhibitions in South Africa . A special presentation is devoted to the prizewinner Heinrich Wolff. Separate catalogues on the nominees and the winners have been published alongside the exhibitions.
The themes "Art Projects for Open Spaces" and fashion design will follow between now and 2010. The project will be rounded off by major presentations (status may 2007, not fixed yet) for all the roughly one hundred artists, nominated since 2000, in Pretoria and Berlin on the occasion of the Football World Cup in South Africa. The Award is not intended to honour meritorious and completed work. Projects that point the way forward and genuine expressive forms are to be commended, and supported and promoted in this way.
Dr. Renate Wiehager, Head of Daimler Art Collection, Stuttgart/Berlin
ZEITGENÖSSISCHE ARCHITEKTUR IN SÜDAFRIKA
Daimler Award for South African Contemporary Architecture 2007
15. Juni - 2. September 2008
Preisträger 2007: Heinrich Wolff
Nominees: archilab (pty) ltd (Michael Borgström, Marco Bezzoli, Ishmaiel Meyer), Thorsten Deckler, Heather Dodd, Andrew Horn, Ndabo Langa, Henning Rasmuss, Chris Wilkinson, Heinrich Wolff (alle SA)
Zum siebten Mal wird der 1999 ins Leben gerufene Daimler Award for South African Culture vergeben, der jungen Kulturschaffenden in Südafrika einen ersten Auftritt im internationalen Kontext ermöglicht. Erstmals verliehen wurde der Award im Jahre 2000 an den Johannesburger Künstler Kay Hassan. Im Jahr 2001 ging der Award an den Jazz-Musiker Themba Mkhize und 2002 als Award for South African Sculpture an die Künstlerin Jane Alexander. Die eindrucksvollen Skulpturen und Fotos von Jane Alexander sind im Daimler Contemporary am Potsdamer Platz Berlin ebenso vorgestellt worden wie die großformatigen Collagen, Videos und Installationen von Kay Hassan. 2003 wurde der Award an die Choreographin Sbo Ndaba verliehen, 2004 erhielt der Fotograf Guy Tillim den Award, er hat seither eine internationale Karriere gemacht, mit großen Präsentationen u.a. auf der Biennale Sao Paulo 2006 und aktuell auf Dokumenta Kassel 2007. 2005 nahm Gabeba Baderoon den Daimler Award for South African Poetry entgegen, verbunden mit einer Lesung in Berlin und einer Publikation. Der Award des Jahres 2007 im Bereich Architektur ging an den in Kapstadt lebenden Architekten Heinrich Wolff. Alle Preisträger waren jeweils nach Deutschland eingeladen, daran schlossen sich Auftritte bzw. Ausstellungen in verschiedenen Städten Südafrikas an. Eine erste umfangreiche Publikation bzw. CD ist Teil des Preises.
Im Rahmen der Ausstellung zum Award for South African Architecture werden aktuell im Daimler Contemporary am Potsdamer Platz Berlin die acht nominierten Architekten bzw. Architekturbüros aus den verschiedenen Provinzen Südafrikas mit ihren wichtigsten Projekten vorgestellt, es folgen umfassende Ausstellungen in Südafrika. Eine Sonderpräsentation ist dem Preisträger Heinrich Wolff gewidmet, der im Februar 2007 in Pretoria von einer international besetzten Jury aus einer Präsentation der Nominees heraus benannt wurde. Separate Kataloge zu den acht Nominierten Architekten sowie zum Werk des Preisträgers begleiten die Ausstellungen.
Bis 2010 folgen die Themen' Kunstprojekte für öffentliche Räume' und Modedesign. In Planung ist derzeit eine große Präsentation aller dann rund 100 seit 2000 nominierten Kulturschaffenden in Pretoria und Berlin anlässlich der Fußball-WM in Südafrika. Der Award versteht sich nicht als Ehrung verdienstvoller, abgeschlossener Werke. In die Zukunft weisende Projekte, genuine Ausdrucksformen sollen ausgezeichnet und auf diese Weise unterstützt und gefördert werden.
Dr. Renate Wiehager, Leiterin der Daimler Kunst Sammlung, Stuttgart/Berlin
www.sammlung.daimler.com