#08 MAPPING THE IMAGINARY AN EVENING BY AND WITH ARMIN LINKE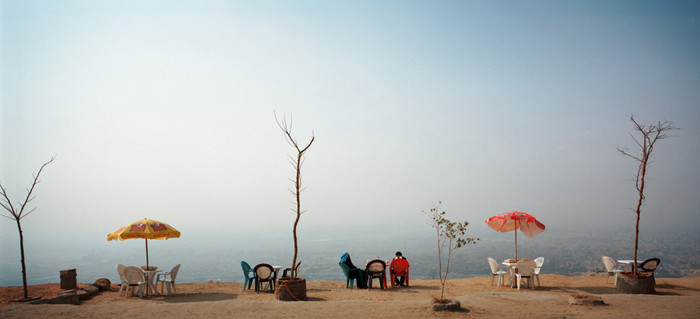 Cairo, 2007, c-print 150x200cm, courtesy Galerie Klosterfelde, Berlin.

SCREENING IN GENERAL #01 TO #1X


Issue #08 of SCREENING IN GENERAL shows a montage of photographic sequences and film extracts by the Berlin based Italian artist Armin Linke.

On extensive travels throughout the world, Armin Linke has used both film and photography to document the effects of globalization, of the transformation of cities into megalpolises and the resulting social and political consequences on human living conditions. Political, social and economic factors are inscribed into space, every day life and architecture. All his projects are settled at places of human activity and in most varied natural and man-made landscapes. Close to visual atlases, the particular projects map different human speeds that activate different forms of life. Linke's work not only blurs the lines between fiction and reality but articulates the politics of the production of space with poetic means.

"For several years Armin Linke has fashioned a series of simultaneous episodes that momentarily expand into panoramic continuity, thereby eluding our visual grasp, and sudden plunges into depth – like ski jumpers descending the launch ramp. Lateral expanse and focused depth imply different times of experience and combine to build the several rhythms of his images. These pictures move even when they are still, and they muffle the swish of time, although we hear clanking cowbells or the crashing sound of falling rock. Life is made of noise and rush alternating with uncanny moments of stillness and loss. Linke has found a way of bringing them into view without allowing time to shred his images. In an embrace as astonishing as it is spontaneous, he matches fleeting moments with the watchful permanence of pyramids." (from: Kurt W Forster on Armin Linke, The History of Now, in: TATE ETC., issue 16, summer 2009)

Similar to his lecture performances which are based on his vast photographic image archive (accessible online), Armin Linke's montage of photographic sequences and film extracts at General Public includes his project Phenotypes / Limited Forms (2007), and his films ALPI (2005, with Piero Zanini), Asini Albini / Devon Rex (2005, with Amedeo Martegani), Flocking (2008, with MaŠa Bušic, Irene Giardina, Herwig Hoffmann, Johanna Hoth, Giuseppe Ielasi, Samuel Korn, Renato Rinaldi, and Marc Teuscher), FUTURE ARCHAEOLOGY (2008, with Francesco Mattuzzi and Renato Rinaldi), Académie de police (2009, with Renato Rinaldi and Piero Zanini), Nuclear Voyage (2008), and Die einsamen Inseln im Mittelmeer (2009, work-in-progress, with Amedeo Martegani, Giovanna Silva, Giuseppe Ielasi, Renato Rinaldi, and Giulia Di Lenarda).


#08 Mapping the imaginary
An evening by and with Armin Linke
Date: August 05, 2009
Time: 9PM
Duration: ca. 90 min
Language: German and English

General Public
Schönhauser Allee 167c
DE 10435 Berlin
www.generalpublic.de

Invited by the Members of General Public.