A TEST EXTENDING BEYOND THE ACTION PROJECTS BY KP BREHMER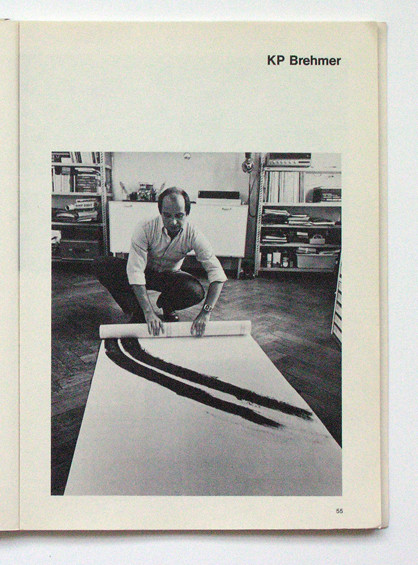 KP Brehmer with Realkapital – Produktion, Berlin studio, 1974. Image from Christos M. Joachimides, Norman Rosenthal (eds.): Art into Society—Society into Art: Seven German Artists, exh. cat. Institue of Contemporary Art (London, 1974) (c) Estate KP Brehmer, Berlin 2011.

An exhibition at CAAC – Centro Andaluz de Arte Contemporáne, Sevilla from March 31–June 12, 2011, curated by Doreen Mende.

Opening on March 31, 2011, 8PM with a solo flute performance by Guillermo Jorge of Soul and Feelings of a Worker (1981).


We are living in a time of an excess in exhibiting. Magazines, newspapers, stores, television and the Internet constitute and reiterate visual grammars directing our understanding of the world. Exhibitions are just a further component of the circuit. This excess in exhibiting is a living condition monitored by capitalism. ––– The exhibition of projects of the German artist KP Brehmer (1938–1997) today leads us into a space of reflection: How do the visual systems of western societies affect the human being? What means do we have for making audible our disagreement without withdrawing our words and images?

"Capitalist realism hasn't weakened since the bank crises; if anything it has intensified." (Mark Fisher, London 2010)

As a major figure of the German Pop Art artist initiative called Capitalist Realism, which culminated in the famous catalog raisonée Grafik des Kapitalistischen Realismus by René Block in 1971, Brehmer worked for decades on the inversion of the capitalist economy of knowledge production by decoding its forms of visual nomination. His reflection on the means of formalization in a context of public display enabled the political to take place without publicising itself as 'political'. His expropriation of western concepts of typography, cartography, thermography and colour theory reveal the ways in which a visual appearance is implicated in economics. The political is situated between an image and its appearance in a magazine, a display, a film and in an exhibition space. It is from this interstice, that we need to ask ourselves what is it that makes today's images so different, so appealing?

If we approach Brehmer's displays, films, publications, compositions and installations as 'notation systems' of social processes, then a similarity to a musical score emerges. Only in the moment of the performance do the questions posed by these works become apparent, under the actual conditions of making them public. Exhibiting here might be understood as both a means and a concern of a practice – for KP Brehmer, and for us, today.

Following this path, his projects implicate a future that begins to alter in the act of exposure. A thought from 1974 could turn into "a test extending beyond the action" today and tomorrow. Is there an alternative contract to capitalist realism possible? What might we learn from KP Brehmer: the reflection on the means of exposure that includes ourselves, has the capacity to potentiate the excess in exhibiting in order to articulate a possibility to defy capitalism and defend society in a different way.

The exhibition A TEST EXTENDING BEYOND THE ACTION is the first comprehensive overview of projects by the German artist KP Brehmer (1938–1997) in Spain, and his first major exhibition at Fridericianium in Kassel in 1998. The show at CAAC includes all seminal projects such as Trivialgrafik (1965/68), Ideale Landschaft (1968), Farbtest Nationalfarben (1969–1972), Farbengeographien (1969–1973), a series of films (1969–1974), Seele und Gefühl eines Arbeiters (1978/80) including musical scores, Wärmebilder (1974–1986) and contributions of Grafik des Kapitalistischen Realismus (1971).

KP Brehmer participated in the inaugural exhibition Neodada, Pop, Decollage, Kapitalistischer Realismus of Gallery René Block in 1964, together with Gerhard Richter, Konrad Lueg, Wolf Vostell, Sigmar Polke. With Joseph Beuys, Hans Haacke and Gustav Metzger among others KP Brehmer was also invited to conceptualize the German Month at the Institute of Contemporary Art in London in 1974 resulting in the influential exhibition/publication Art ⇄ Society. In later years, KP Brehmer focused on teaching at the University of Fine Arts in Hamburg and at the Academy of Fine Arts in Hangzhou in China (PRC). Recent exhibitions include the Istanbul Biennale 2009, TANAS Berlin, Neuer Berliner Kunstverein, Kunsthalle Schirn in Frankfurt and Tate Liverpool.

A Booklet in English and Spanish is part of the exhibition. It shows the path through the exhibition and includes the first publication of a series of texts by KP Brehmer related to his own projects as well as texts by René Block, Jürgen Becker and Doreen Mende.


Contact:
Centro Andaluz de Arte Contemporáneo
Monasterio de la Cartuja de Santa María
de las Cuevas
Avda. Américo Vespucio, 2
Isla de la Cartuja - 41092 Sevilla
Tel. (34) 955 037 070
Fax (34) 955 037 052
actividades.caac@juntadeandalucia.es

http://www.caac.es
http://www.kpbs.de

Thanks to Juan Antonio Álvarez Reyes, René Block, Stephan Böhmer, Monika Brehmer, Sebastian Brehmer, Inés Costa, Maurine Eppinger, Faustino Escobar, Kodwo Eshun, Mark Fisher, Margareta Hauschild, Thomas Heyden, Rachel Jans, Daniel Koep, Johannes Kuehn, Steven Lindberg, Alberto Figueroa Macías, Martina Manara, Angelika Nollert, Sarah Poppel, Gloria Rodríguez, Brian W. Rogers, José Carlos Roldán, Lluisa Sarries i Zgonc, Lluvia Vega.