MONTRAGE BOOK ON THE PROJECTS BY FILIPA CÉSAR FC: WHAT IS IN THIS BOOK. DM: AN ARCHIVE, A SHOW, A CONVERSATION.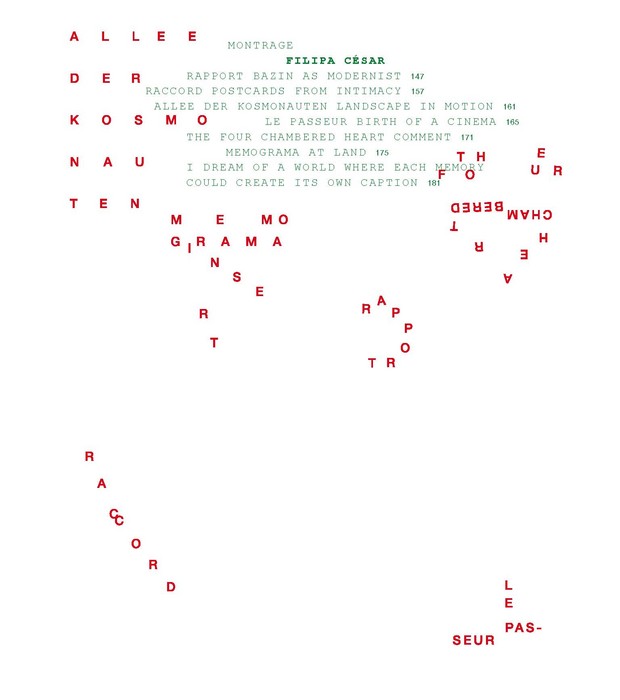 Filipa César and Doreen Mende, Montrage, book cover, 220 x 195 mm (c) Manuel Raeder

Montrage is an exhibition project with the means of a book. It displays cinematographic projects by the Berlin-based Portuguese artist Filipa César in collaboration with the curator Doreen Mende and the graphic designer Manuel Raeder.

In her artistic practice, Filipa César applies the technique of cinematic montage, marking the space for the "third gaze" (Jean-Luc Godard) of a spectator. Yet, as César's films, the book relies neither on a linear temporality nor on a purely dialectical organization of what is depicted here, instead, letting readability emerge in a crystalline space between the images and words. The project's title Montrage, which is a term borrowed from Robert Lapoujade and Gilles Deleuze and connects to the French 'montrer' for 'to show', therefore indicates the interlacement of filmmaking and exhibiting as acts of exposure where both forms of practice meet. This type of showing conflates cinematic, personal and exhibition-time, that might allow to enter a space in which the actual image evolves from a permanent resistance against a state of a singular historical truth. Montage does not cease to exist, but disturbs a chronological system of time. Montrage includes projects by César of the last three years, which are Rapport (2007), Raccord (2007), Allee der Kosmonauten (2007), Le Passeur (2008), The Four Chambered Heart (2009), and Memograma, Insert (2010). The project's points of departure are often memory fragments – personal or cinematic ones – that appear like messages from past revolutionary struggles in Portugal or elsewhere defying political apparatuses like fascism and colonialism. Concrete manifestations of architecture, geography and films deliver itineraries to trace these memories in order to complicate our very present.

Montrage includes texts by Filipa César, Galit Eilat, Colin MacCabe, Doreen Mende, Eglantina Monteiro and Helena Vilalta.

The presentation of Montrage takes place on the occasion of the opening Montage in the exhibition spaces of SOLAR – Galerie de Arte Cinématica, Vila do Conde/Portugal on Saturday, October 23, 2010, 5.30PM, with Filipa César, Doreen Mende and Eglantina Monteiro.


192 pages, published by argobooks, Berlin, 2010.