ORDERS. SECRETS. EMBARRASSMENTS ... AND THEN WE START AGAIN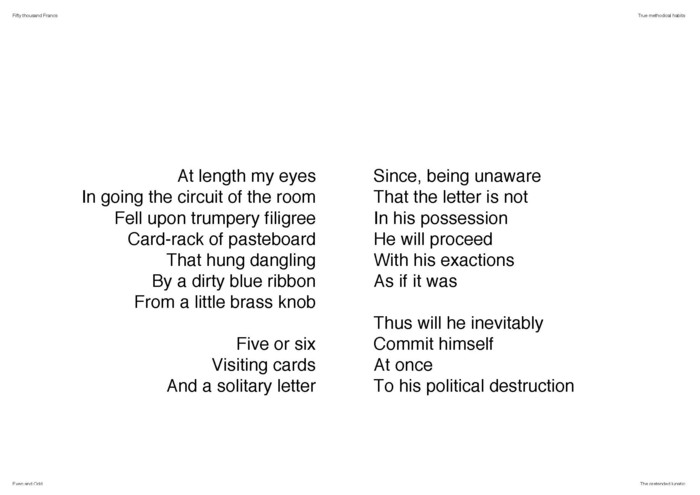 Ruszka Roskalnikowa: The gold snuff-box (in Edgar Allan Poe's The Purloined Letter, 1845), Print on paper, 2009.


September 22 - September 27, 2009.

Die Arbeiten der Ausstellung thematisieren und generieren gleichzeitig was innerhalb einer fixierten Ordnung seinen Platz zugewiesen bekommt, was in bestimmten Situationen sichtbar und sagbar, als auch das was an ihnen unsichtbar und unsagbar ist. In der Unterbrechung bestehender Verabredungen formulieren sie die Existenz eines anarchisch sinnlichen Streits, den die Normen nicht schlichten können, ohne sich selbst als Teil des Konfliktes zu erkennen.

The works of the exhibition simultaneously generate and discuss issues that assign a place within a fixed order, what can be visualized and articulated under certain circumstances, as well what cannot be visualized and cannot be articulated under these circumstances. Within the rupture of given agreements they formulate the existence of an anarchic sensual conflict, which norms cannot conciliate without recognizing themselves as part of the conflict.

Mit Beiträgen von / With contributions by
Florence Foster Jenkins, Annette Kisling, Ulrike Feser, Elke Marhöfer, Discoteca Flaming Star + Johannes Raether + Matthew Lutz-Kinoy, Laibach, Ruszka Roskalnikowa, Velvet & Crochet, Chat, e-Xplo, Heimo Lattner, Jamie Lutzo, Maren Maurer.



Events:

SEPTEMBER 22, late at night
Performance on the opening night at 2.30 AM (Yes, thats actually on the 23rd in the early morning!!)

Empathy. Bajo el umbral de un performance by Discoteca Flaming Star + Johannes Raether + Matthew Lutz-Kinoy

SEPTEMBER 25, 20.00
Filmscreening L'Interview und Lesung Alban Lefranc

Lesung aus Alban Lefrancs Angriffe – Fassbinder, Vesper, Nico (deutsch & französisch), danach eine Film-Rarität von Sylvain Roumette (mit Nico)

SEPTEMBER 27, 15.00 + 17.00
Sunday afternoon Screening In General

Resisting gender - a screening for discussion
15.00: Sigmund Freud's Dora: A Case of Mistaken Identity (1979)
17.00 Argument (1978).
Both films by Jay Street Film Project.
In conversation with Avigail Moss and Kerstin Stakemeier



Exhibition, reading, screening, discussion, performance, music.
September 22 - September 27, 2009.

General Public
Schönhauser Allee 167c
DE 10435 Berlin
www.generalpublic.de

A project by Cristina Gomez Barrio, Heimo Lattner, Wolfgang Mayer and Doreen Mende.