A CAGE WENT IN SEARCH OF A BIRD MAKE MORE MISTAKES AND MAKE THEM FASTER! A FILM PROGRAM ON THE OCCASION OF THE SOLO EXHIBITION BYE BYE UTOPIA BY RAUMLABORBERLIN, KUNSTHAUS BREGENZ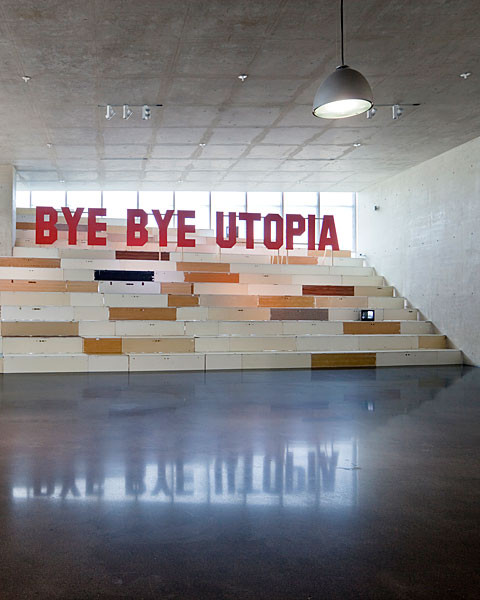 For the event BYE BYE UTOPIA... welcome tomorrow! curator Ellen Blumenstein selected a series of films that deal in different ways with the construction of reality and its variability. With the aphorism in Franz Kafka's title "A cage went in search of a bird", reality is not seen as a culmination of problems but described as a sum of solutions that are searching for their problems. The contributions of this program originate from this inversion and they explore the tasks that confront us in our surrounding world - with its public, political, social, cultural and private spaces.
Instead of assuming an understanding of utopia as an ideal rearrangement of a society in an undefined future and of the revolution as its vehicle, A cage went in search of a bird – Make more mistakes and make them faster! accordingly follows the concept of Walter Benjamin, that revolutions stop the progress of history in order to tackle the remaining problems of the past.

Like the exhibition and the event, the selected filmmakers are interested in the spaces of tomorrow, but take a look under the motto BYE BYE UTOPIA on the present and its problems rather than its solutions, which are known but at the same time seem utopistic. They uncover the constructions of our realities or rather question them, always in the search for knowledge, labour, touch, politics and its 'possible spaces'.
Two interviews of the film maker and author Alexander Kluge of the DVD editions "Marx – Eisenstein – Das Kapital. Nachrichten aus der ideologischen Antike" and "Früchte des Vertrauens" , in which Kluge deconstructs popular terms of the neo-capitalistic vocabulary, form the beginning of the event and exhibition. In Macht mehr Fehler, woraus wollt ihr sonst lernen? he speaks with the dramatist Heiner Müller about the human bering protection for computers, artistic forms of knowledge and error as an essential requirement for truth. The sociologist Oskar Negt dissents firmly with the idea of the joyful failing and explains Benjamin's concept of the revolution as the emergency break of history.