MÄNNERFANTASIEN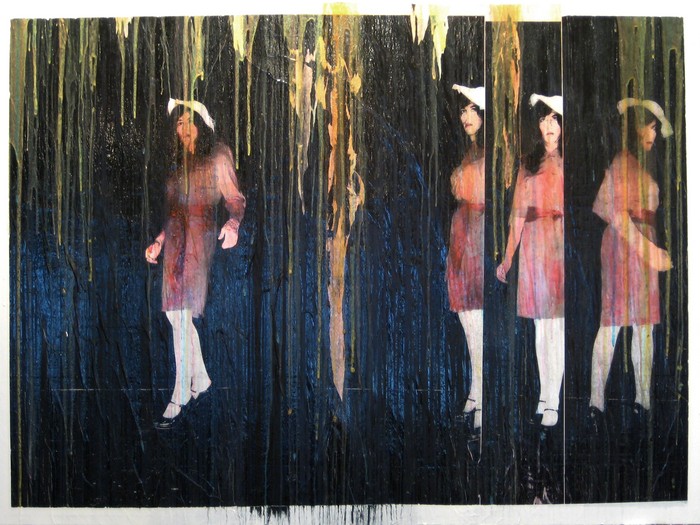 Matt Greene: Giallo, 2007

Prologue

Colloquially, the term male fantasies is considered synonymous to sexual desire. Men live with images of women, oscillating between lust and aggression, arranged in typologies of virgins, lovers and brides, sisters, mothers—and, hardly ever, daughters. Reversely, ideas of masculinity circle around images of tough guys who know neither weakness nor fear, around victories and conquests, and of course, power. So much for traditional role models—which are oftentimes more valid until today than we all like to admit.
In the late 1970s, German cultural theorist Klaus Theweleit chose the term Male Fantasies (Männerfantasien) as the title of his first book, undertaking the adventure of investigating the images of women and of men's identity construction, activated by a decade of feminist discourse, which had already shaken the presumably fixed parameters of inter-gender relations. Using a historic retrospect on the first half of the 20th century, Theweleit was focusing on men's incapacity to deal with their own and others' emotion and their anxiety of the female body (paradigmatically symbolizing "Aliveness", Lebendigkeit). Starting from the deconstruction of the bodies of soldierly men in 1920s Germany, Male Fantasies describes the pathological idea of "real masculinity", which sets the promise of bodily completeness in a homosocial, violence-prone community against the threatening ego-dissolution through the intrusion of the feminine.
Theweleit's writings are an inexhaustible source for the meditation on gender relations and gendered bodies. His long-term inspiration is the psychoanalytical apparatus of Wilhelm Reich and its focus on and intrusion into body processes, physical/bodily energies and body-armoring. He uses Reich and an inventive form of close reading and interpretation of his source texts to take a stand in the feminist discourse and thus, to change men's mindset (first of all, his own, of course). As I am interested in male subjectivity and men's changing self-perception in increasingly blurred gender formation and contradicting role models, Male Fantasies almost naturally has inspired the scope and focus of this exhibition and lent its title to this project.
Theweleit's observations not only met a huge response some 30 years ago, but inspire gender debates to the very day: the available images have indeed diversified, but three decades are not sufficient time to wipe out role models which grew, consolidated, and were cultivated for centuries. As a feminist who feels the urge to take a step onwards in the gender discussion and observing
the lack of a discourse on male role models within the lately reinforced debate on feminism, this exhibition now is my personal attempt on founding a platform and common discussion ground. Männerfantasien is aiming to reach beyond the trap of respective exclusion by opening up a space for a diversified field of positions and approaches.
Notwithstanding, prerequisite is the acknowledgment of the different situations of men and women today (with extreme graduations within the respective sex itself). As a woman, it is still—and more than ever—necessary to take an active role oneself, and to interpret feminism not as an issue that concerns women only, but that investigates the relations between the sexes, trying actively
to change traditional role models in all fields.
This is so important, because there are voices today (especially female, of course), which express their disappointment with the failure or setback of feminism. In fact, the early 90s brought new financial hardships and the free spaces that were eked out in the 70s disappeared—foremost unnoticed—through the back door. This being true, however, there is also another side of the very same coin: as today the male position is unsettled too, men all of a sudden have a broad interest in discussing concerns of identity and subjectivity themselves. Therefore, instead of continuing to live in defense against and rejection of the male, there is a big chance now to lead the discourse by essentially integrating masculinity, stepping up to men and taking their insecurities serious. Changes
between the genders happen through social interaction, through "seeing" and "perceiving" the other, and making one see and perceive oneself. With most of the artists in the exhibition I had already established a dialogue on their works a longtime before working on this show, and some of them inspired me to do this project. The enthusiasm towards the subject and the very personal and detailed answers they sent me as a reaction to my request are the inspiration for this publication and its format: instead of writing a curatorial essay on the theme and inviting other writers to meditate on different aspects and implications it brings along, we decided to give each artist the same space to
present his own position towards the topic. In a combination of images and text (or the selection of either one—like with Rodney McMillian) this book literally presents a selection of "male fantasies" in the sense that each contribution allows a personal perspective on the respective work by the selection the artist undertakes to visualize with their approach; which—we should not forget—very
rarely happens. The text formats range from conversations and interviews (Antonia Majača / Mladen Stilinović, Brock Enright / Kristen Deirup and Ellen Blumenstein with Matt Greene and Michael Kunze) to a short story (Charlie White), one more theoretical (Nicolás Guagnini) and one more poetic foray (Adam Putnam), a few poems (Idea Vilariño/Alejandro Cesarco), a specially developed representation
of the work for the catalogue (Michael Müller), and a transcript of a text based artwork (Pablo Pijnappel). The images sometime depict the works that are presented in the show, sometimes they complement the texts, sometimes they are other works; but all were chosen by the artists especially for this book. This prologue should not be seen as an introduction to the show, nor to this publication, but as a very personal reaction on the positions the artists confronted me with and as my contribution to male fantasies.