Carte Blanche VIII: Doris and Klaus Schmidt
29 Aug - 25 Oct 2009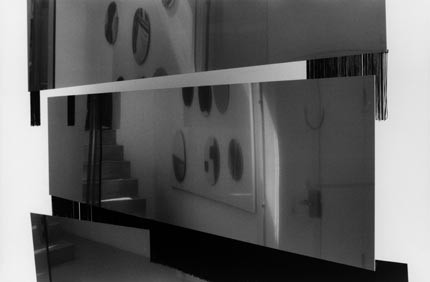 © Werner Lieberknecht
Untitled (House Dresden and House Cologne)
2005/09
B/W-photography, hand made fibre-based-print,
51 x 42 cm, 35 x 23 or 23 x 35 cm
Curated by Johannes Schmidt

in cooperation with Barbara Steiner

29.08.2009 - 25.10.2009
Opening on 28-AUG-09 at 7 p.m.

At the beginning of the Schmidt-Drenhaus collection in Cologne in 1968, the collection was initally composed of paintings. Over time, works on paper became more and more significant. Today the collection comprises paintings, photographs, prints, drawings, collages and objects in equal measure. Works of modern art, primarily expressionism, German post-war art and Berlin Wild Painting can be found alongside American artists and works of young artists from Dresden and Berlin. Ever more works are purchased from the artists involved in the collection and artistic development is accompanied over a long period of time.
Doris and Klaus F.K. Schmidt >collect in order to curate<. In their house in Dresden - as in Cologne - new artistic neighbourhoods are being sampled. In various exhibition projects, they open their collection to the public. In this way they showed a selection of paper and photographic works for the first time under the title >HEILE WELT< (IDEAL WORLD) in the Collection of Prints, Drawings and Photographs of the Dresden State Art Collections in early 2006. A second part will follow in 2010, comprising paintings and objects in the exhibition hall on the Bruhl Terrace. The concept of this exhibition is developed in collaboration with the respective curators. Since 1994 Doris and Klaus F.K. Schmidt have been founding members of the Dresden Modern Art Society, in order to highlight the necessity of private commitment to contemporary art and its institutions in Dresden, amongst other reasons. They themselves lead by example. For example they donated paintings, photographs and graphic works by several artists to the Ludwig Museum in Cologne and, as one of their main concerns, the Dresden State Art Collections. The donated works were by artists such as Jan Brokof, Markus Draper, Beate Gütschow, Eberhard Havekost, Candida Höfer, Olaf Holzapfel, Jürgen Klauke, Frank Nitsche, Max Pechstein, Thomas Scheibitz and Max Uhlig. The Saxon State Library - Dresden State and University Library is now the proud owner of a large-sized painting by Eberhard Göschel, which adorns the entrance to the library.
Their commitment to art has a model function: be it loans or donations to museums in Cologne or Dresden, their publicly shown collection exhibition or even works by contemporary artists, which Klaus F.K. Schmidt has already been sending to his clients for over 30 years in order to get them interested in art. Today this sometimes means sought-after collection pieces. The FORUM FÜR KUNST IN DER GEGENWART (CONTEMPORARY ART FORUM), is also a part of their engagement. It was founded collectively with Stefan Heinemann, Jens Zander and Peter Herbstreuth in December 2001 and since then has taken place thirty times. Depending on the focal themes, those interested are invited to a discussion which takes place at the Schmidts' house.
Doris and Klaus F.K. Schmidt have been married for more than 40 years and have two grown-up children. Since 1990 they have mainly lived in Dresden. Klaus F.K. Schmidt is a financial and tax advisor specialising in the oversight of artists, gallery owners and collectors and is active across Germany from his bases in Cologne and Dresden. Many of his clients are among the most important personalities on the German and international art scenes. At the end of 2006, Doris and Klaus F.K. Schmidt brought a part of their collection into their Schmidt-Drenhaus Foundation.