ars viva Prize 2014/15: Aleksandra Domanovic, Yngve Holen and James Richards
13 Jun - 02 Aug 2015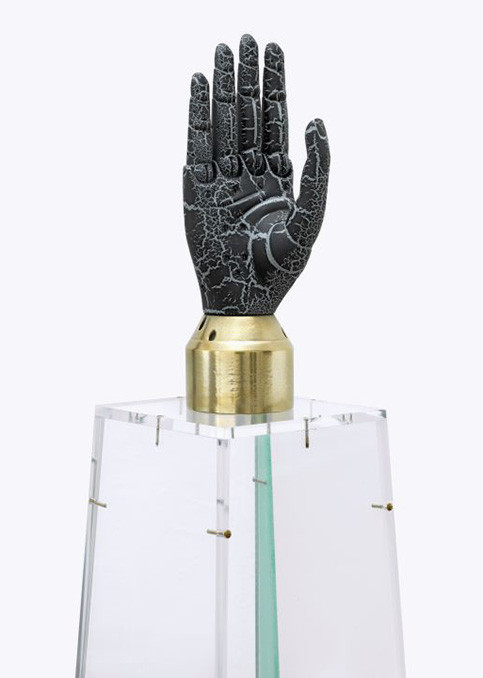 © Aleksandra Domanovic
Fatima, 2013–14
Laser sintered PA plastic, polyurethane, Soft-Touch & brass finish, acrylic glass, 157 x 30 x 30 cm
Courtesy Galerie Tanya Leighton
ars viva Prize 2014/15:
ALEKSANDRA DOMANOVIC, YNGVE HOLEN AND JAMES RICHARDS
13 June – 2 August 2015
The Grazer Kunstverein presents the winners of the prestigious ars viva-Prize 2014/15: Aleksandra Domanović (b. 1981 in Novi Sad, Serbia), Yngve Holen (b. 1982 in Braunschweig, Germany) and James Richards (b. 1983 in Cardiff, Wales).
The ars viva-Prize, which has been presented by the Kulturkreis der deutschen Wirtschaft im BDI (Association of Arts and Culture of the German Economy at the Federation of German Industries) every year since 1953, is awarded to young visual artists who live and work in Germany. Previous winners include Marina Abramović & Ulay, Katharina Sieverding, Rosemarie Trockel, Candida Höfer, Thomas Struth, Anna Oppermann, Jeanne Faust, Thomas Demand or Omer Fast. The ars viva Prize consists of an award of 5,000 EUR to each selected artist as well as a series of exhibitions, a bilingual catalogue and a limited artist edition. This year's jury was chaired by Ulrich Sauerwein and consisted of seven members of the Kulturkreis Fine Arts Committee, curators Dr. Brigitte Kölle (Hamburger Kunsthalle), Christina Végh (Bonner Kunstverein), and Krist Gruijthuijsen (Grazer Kunstverein), along with Susanne Pfeffer (Fridericianum Kassel) as an expert advisor.
Aleksandra Domanović's work is concerned with the circulation and reception of images and information, particularly as they shift meaning and change register, traversing different contexts and historical circumstances. Her works create strange taxonomies and manic associative chains that poke and prod at copyright laws, unpack the geopolitical implications of web domains, or explore, for instance, the model of exhibitions (the co-creation of the collaborative exhibition platform
vvork.com
). Most recently, Domanovic ́ has turned her attention to the complex ways in which image culture and information flows have formed the post-war environment of the former Yugoslavia. Whether investigating the phenomenon of what she dubs 'Turbo Sculpture' – monumental statues of American celebrities and movie characters like Bruce Lee, Johnny Depp, and Rocky Balboa, that have been erected across the former Yugoslavia – or constructing modest steles out of printer paper emblazoned with digital distortions of images from pre- and post-war life, or making semi-autobiographical forays into a rave scene that united the youth of the balkanized Yugoslavian territory, Domanović addresses the ways in which we attempt to heal the wounds of history through conviviality and denial.
The work of Yngve Holen is characterized by the appropriation of advanced technologies. His sculptural practice is instilled with a corporeal sensibility, reflecting our complex experience with our everyday surroundings. Holen's sculptures draw upon industrial technologies and their relationships to production engineering, problems of replaceability, the consumer experience, and the images and discourses through which all these are represented. How are consumers allowed to visualise abstruse economic or industrial processes, and how are the consumers themselves visualised? Holen investigates industries such as commercial aviation, 3D technology, consumer appliances, and food. For the exhibition, the artist has produced a new series of works with the face of CT scanners, the machines that create tomographic images from computer-processed X-rays, allowing users to see inside biological objects without cutting. The component's gateway form is one of the most recognizable in the fields of medicine and clinical imaging technology. Produced using the factory tooling for the Siemens SOMATOM Force model, the parts have been left untreated, revealing their beige medical-grade plastic, and dressed with black, white, or yellow fishnet stretch fabric.
Working across video, sound and installation, James Richards' artistic practice embodies the role of curator, editor and archivist. He uses found, borrowed and self generated material as an expressive and highly personal form of collage. Richards' often channels other artistic voices through his work too, such as those of Julia Heyward, Stuart Marshall and Stuart Baker whose films he has curated into his installation. Richards is often considered as belonging to a generation of artists who work under conditions determined by an increasingly digitalized dissemination of artistic practice, in which the storage, recall and reworking of information is continuous and fluid. Accordingly, his work possesses a certain contingent and improvised quality, whereby materials are collected over time and re-assembled for different pieces, contexts or audiences. For example, in the video work Rosebud (2013) the surface of a pond cuts the sexually explicit photographs in library books, which have been censored through the intense scratching of the image. The familiar and prohibited are thrown into relief, in unexpected combinations, which suggests a breaking down of surfaces and cultural (in)significance.
The ars viva 2014/15 exhibition opened at the Hamburger Kunsthalle (19 October 2014 – 19 February 2015) and subsequently travelled to the Bonner Kunstverein (7 March – 17 May 2015). All three institutions presented a selection of existing as well as newly commissioned works by the artists. The exhibition is accompanied by a catalogue published by Hatje Cantz.