On Rage
13 Mar - 09 May 2010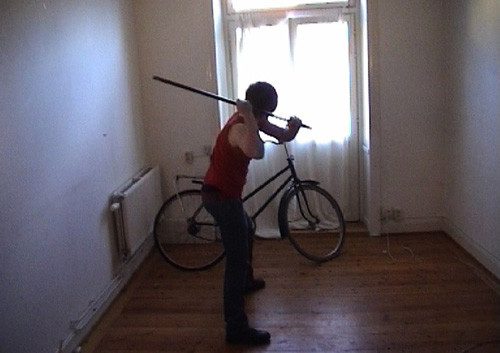 © Klara Liden
"Bodies of Society" (2006, Video Still, 3 min)
Courtesy of the artist and Reena Spaulings Fine Art, NYC
ON RAGE
13.03.-09.05.2010
Thu - Mon 11-19 h, Wed 11-22 h | Exhibition 5 € / 3 € (Mon free admission), Film 5 € / 3 €, combo ticket Exhibition + Film 8 € / 5 €
Lectures, ReReading, performances, talks (incl. exhibition ticket) 5 € / 3 €
With works by: Shoja Azari (Iran), Jimmie Durham (USA), Regina José Galindo (Guatemala), Tadeusz Kantor (PL), Klara Lidén (S), Michael Rakowitz (USA), Reloading Images (Iran / USA, I / UK, Iran / D, D, Iran / USA, Egypt), Seher Shah (USA) and a specially developed "Discursive Architecture" by ifau (D).
Curated by Valerie Smith
Eight artistic statements protesting intolerable conditions, ranging from the "dead" classroom by the extraordinary Polish artist Tadeusz Kantor to Jimmie Durham's unmasking of America's founding myth in "Building a Nation", to Regina José Galindo's opening performance: her own gold teeth become the metaphor not only for the exploitation of Latin America, but also call forth associations of the brutality of the "Third Reich". The works take on today's global reality – not by reflecting or reproducing it, but by distilling its essence. Thus, Michael Rakowitz, son of Iraqi-Jewish immigrants to the U.S., creates from Arab packaging materials a replica of the Ishtar Gate ("May the Arrogant Not Prevail"), which in present-day Iraq has turned into a tourist attraction for American soldiers. A papier-mâché copy of a copy, since the "real" Ishtar Gate has been located in Berlin since 1930. The work is one of four commissioned works created especially for this exhibition.
During the Gallery Weekend on 29.4. and 1.5.: Talks and performances with Jimmie Durham, Mick Taussig, Oreet Ashery, Klara Lidén, Andrew Nelson and Discoteca Flaming Star.
Sunday Tours
with artists, researchers and social activists
14.3., 21.3., 4.4., 11.4., 18.4. at 15 h
participation fee € 3 plus admission
Special tours "Visits"
Art walks between Hamburger Bahnhof and HKW
Sun 28.3. 15 h, Sun 25.4. 15 h | meet at: Hamburger Bahnhof
Participation fee € 3 plus admission
School tours by appointment: 030 - 397 87 180,
next@hkw.de