real sets / fictional sets
Selected Works from the Permanent Collection
02 Aug - 08 Oct 2017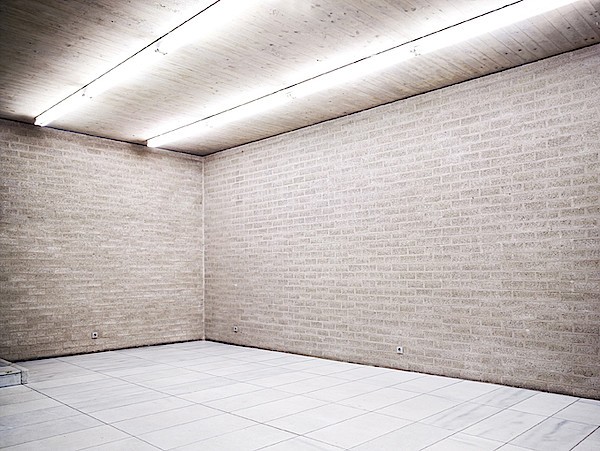 Candida Höfer, Schmelahaus Düsseldorf I, 2011, photography, 180 x 226,3 cm, Kunstsammlung Nordrhein-Westfalen, Düsseldorf, donation of the artist to the Gesellschaft der Freunde der Kunstsammlung Nordrhein-Westfalen e.V. 2017, Courtesy, © Candida Höfer, Köln / VG Bild-Kunst, Bonn 2017
REAL SETS / FICTIONAL SETS
Videos And Photographs
Selected Works from the Permanent Collection
2 August – 8 October 2017

Artists participating:
Alice Creischer / Andreas Siekmann
Candida Höfer
William Kentridge
Bruce Nauman
Wael Shawky
Rosemarie Trockel
Richard T. Walker
Heimo Zobernig

In the basement level of the K21, real sets / fictional sets features videos and photographs from the permanent collection that take the stage/film set as the point of departure for the most diverse scenarized spatial arrangements, an approach that offers fields of play for a variety of scenes, plots, and narratives. On view will be works by Bruce Nauman, William Kentridge, Rosemarie Trockel, Richard T. Walker, Heimo Zobernig, and Wael Shawky, supplemented by a selection of photographs by Candida Höfer.

On view for the first time will be the collection's most recent acquisition: with Candida Höfer's large format color photograph "Schmelahaus Düsseldorf I" (2011), an important new addition to the Kunstsammlung Nordrhein-Westfalen stands at the center of the temporary presentation of works from the collection entitled "real sets / fictional sets." Höfer's striking photograph "Schmelahaus Düsseldorf I" (2011) is a gift of the artist to the Society of Friends of the Kunstsammlung Nordrhein-Westfalen.

Höfer's view of an empty room, its walls and concrete block ceiling, as well as its white marble flooring, shows the northeastern corner of the exhibition space located in the basement level of the building – constructed in 1971 after designs by the Dutch architect Aldo van Eyck for the legendary Düsseldorf gallerist Alfred Schmela in 1971 – located at Mutter-Ey-Straße 3. In the sober style so characteristic of Höfer's work, this minimalist architecture, illuminated by neon lighting, is presented as a blank surface that awaits a future utilization.

In October of 2013, in fact, the Schmela Haus was equipped with sculptural installations in the form of a stage and bar. Through a confrontation with van Eyck's refractory aesthetic, the sculptor Andreas Schmitten realized his "Set for the Schmela Haus: Lounge and Bar," which is reminiscent of a musical hall or circus, and which is concealed in the view shown by Höfer. The photograph "Schmelahaus Düsseldorf I" at the same time refers to a number of aspects of recent Düsseldorf art history: to the 1960s/70s, years of upheaval strongly associated with Schmela; to the local photographic tradition established by the Becher School; to the Düsseldorf Art Academy, from which Candida Höfer herself emerged around 1980; and finally to the history of the Kunstsammlung Nordrhein-Westfalen, which has used the Schmela Haus – situated between the K20 and the K21 – since 2009 as a third venue, and in particular as a guesthouse and center for special events.