Forbidden Love: Art in the Wake of Television Camp
25 Sep - 19 Dec 2010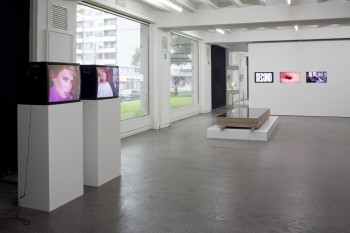 Forbidden Love: Art in the Wake of Television Camp,
Installation Kölnischer Kunstverein 2010,
Foto: Simon Vogel
FORBIDDEN LOVE: ART IN THE WAKE OF TELEVISION CAMP

Joseph Beuys, Chris Burden, Mel Chin and the GALA Committee, Simon Denny, Kalup Linzy, Francesco Vezzoli, Andy Warhol u.a.

25.9.- 19.12.10
Opening: 24.9.10, 7 p.m.

In view of the fact that television increasingly determines our thinking, behaviour, and actions as a matter of course and is now numbered among the things we no longer reflect upon out of a sheer force of habit, then it would seem useful to take another, closer look at the good old "gogglebox". Forbidden Love: Art in the Wake of Television Camp will observe the seductive methods of television, with its "gaudy mannerisms", and will describe television as a world of experience with different formats and forms of communication, as well as its inherent ambiguities. The project aims neither at a thematic nor a moralistic analysis of television, but rather at an aesthetic, "camp" approach, in keeping with Susan Sontag's analysis in her Notes on "Camp".

The exhibition Forbidden Love: Art in the Wake of Television Camp readopts a theme that the Kölnischer Kunstverein helped to shape decisively during the 1980s with the presentation of Gerry Schum's Videogalerie – Fernsehgalerie in 1980, through exhibitions such as Video-Skulptur in 1989 by Wulf Herzogenrath, and The Arts for Television in 1987. Today however, it is not a question of the development of technical possibilities or a critique of this homogenising, consumer-oriented mass medium. Instead, the exhibition will present artists who work within the operational rules of television, using them for their own ends. Based on Andy Warhol's example, they know how to utilise the rules of the attention-dependent economy, they play with celebrity culture, and adopt the episodic structure of soaps, TV shows, music clips, or talk shows, turning them into something new.

Forbidden Love: Art in the Wake of Television Camp shows artists who are not expecting their own transmission slot on television. Instead, like parasites, they infiltrate existing TV formats with their own artistic concerns. Having grown up with television, the younger artists in particular approach the medium from the position of the specialised viewer. They pursue their fascination for the artistic element, for the dethroning of the serious (Sontag), for the stylistic howlers of image cultivation, and for the opulence of surface splendour. As consumers of television, they return the ball to the opposing court and mirror the medium itself. The ambivalent and exclusive mechanisms of television, the ambiguous forms of communication, expelling mechanisms and an attitude of expectation emerge particularly clearly in childlike role-playing, in the desire for participation, and in the exaggerated cultivation of image.

The exhibition Forbidden Love: Art in the Wake of Television Camp is a cooperation with the Medienturm in Graz, with which the Kölnischer Kunstverein will copublish a catalogue.