Liquid Reflection
Works From The Anne-marie Und Victor Loeb-foundation
27 Oct 2017 - 28 Jan 2018
Max Ernst, Perturbation, ma soeur, 1921. Collage, Gouache und Farbstift auf Papier, 22,0 x 15,5 cm. Kunstmuseum Bern, Anne-Marie und Victor Loeb-Stiftung, Bern
© ProLitteris, Zürich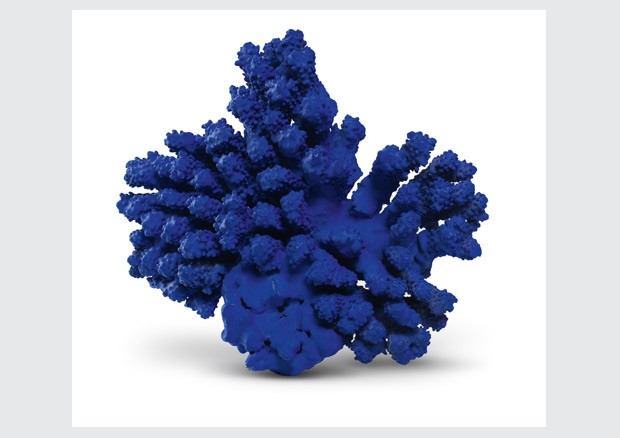 Yves Klein, Sculpture éponge 3, o.J., Reines Pigment und synthetisches Harz auf Schwamm oder Koralle, H 8,4 cm, B 18 cm, T 16,5 cm, Kunstmuseum Bern, Anne-Marie und Victor Loeb-Stiftung, Bern
© 2017 ProLitteris, Zürich
LIQUID REFLECTION
Works From The Anne-marie Und Victor Loeb-foundation
27 October 2017 – 28 January 2018

Curator: Marianne Wackernagel

Bern residents, Victor and Anne-Marie Loeb, were among the city′s most active and important art lovers. The Loebs were mainly interested in Constructivist Art after 1960. On behalf of the eponymous Foundation, Kunstmuseum Bern is proud to have provided a home to their collection, which has graced the museum galleries.

While most works are on paper, there are also several paintings and sculptures. Among the artists are such illustrious names as Paul Klee, Max Ernst, Joan Miró and Meret Oppenheim, alongside Yaacov Agam, Max Bill, Jean Dewasne, Fritz Glarner, Jean Gorin, Johannes Itten, Alfred Jensen, Richard Paul Lohse, Jesus Rafael Soto, Frank Stella and others.

The collection is particularly attractive for its enormous emotional and intellectual range, from the purely rational to works in a more Surrealist idiom.

Liquid Reflections is a presentation of highlights from the collection of the Anne-Marie and Victor Loeb-Foundation. Anne-Marie Loeb-Haymann (1916 –1999) and Victor Loeb (1910–1974) belonged to the league of Bern's more noteworthy collectors. With the exhibitions at the Kunsthalle Bern as incentives and in close consultation with Harald Szeemann, the couple accrued a collection that consisted largely of art from the 1960s and 70s.

Since 1980, this exceptional collection has its home at the Kunstmuseum Bern as a permanent loan and boasts more than 350 works of art, including paintings, sculptures, drawings, and prints. These works reveal the experimental departures and the diversity typical for the art of the time. We have adopted the name of the light sculpture Liquid Reflections (1967) by US artist Liliane Lijn (*1939) for the title of the exhibition. It paraphrases the specific and unique character of the Loeb collection: fluidity and the dissolution of boundaries.