Mentally Yellow
(High Noon)
06 May - 08 Oct 2017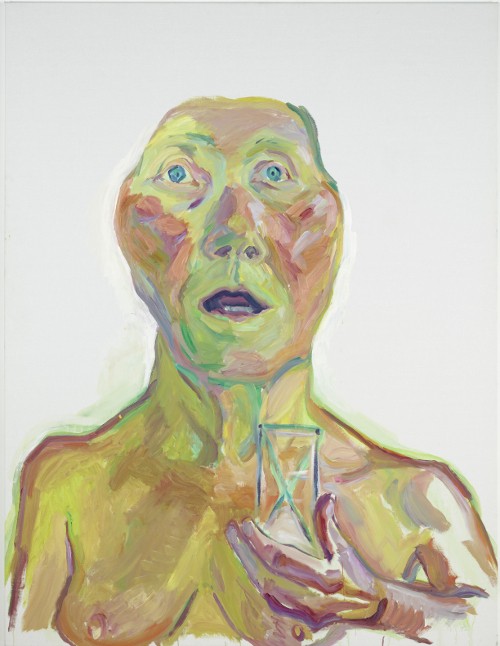 Maria Lassnig
Sanduhr, 2001
© KiCo Stiftung Foundation Städtische Galerie im Lenbachhaus und Kunstbau, München Sammlung KiCo
MENTALLY YELLOW
(High Noon)
6 May – 8 October 2017

An exhibition at the Kunstmuseum Bonn and the Städtische Galerie im Lenbachhaus, Munich

The Städtische Galerie im Lenbachhaus and the Kunstmuseum Bonn have teamed up to present the exhibition "Mentally Yellow. High Noon", a double presentation of art from the KiCo Collection. Assembled by Doris Keller-Riemer and Hans-Gerd Riemer, Bonn, the KiCo Collection has been hosted by the two museums in Bonn and Munich since the mid-1990s. Initially focused on monochrome color painting, it has steadily grown over the course of two decades to encompass a wide spectrum of contemporary art, including several expansive installations. In purchasing new art, the Riemers have sought to buy complete ensembles or entire self-contained rooms. The works are given on permanent loan to the public museums, and decisions concerning acquisitions are made in close collaboration and coordination between the collectors and the two museums. The KiCo Collection thus also complements the museums' own holdings in helpful and interesting ways. Its contributions have allowed the Lenbachhaus as well as the Kunstmuseum Bonn pursue their own distinctive collection-building programs, a form of support that will remain vital in years to come.

Artists represented in the exhibition in Munich:
Franz Ackermann, Thomas Bechinger, Karla Black, Monica Bonvicini,Martin Boyce, Angela Bulloch, Heinz Butz, Antonio Calderara, Thomas Demand, Inge Dick, Thea Djordjadze, Olafur Eliasson, Ceal Floyer, Isa Genzken, Katharina Grosse, Wade Guyton, Marcia Hafif, Charline von Heyl, Daniel Knorr, Maria Lassnig, Erik van Lieshout, Sarah Morris, Arnulf Rainer, Gerhard Richter, Rolf Rose, Karin Sander, Tomas Saraceno, Thomas Scheibitz, Adrian Schiess, Wolfgang Tillmans, Corinne Wasmuht

Curated by Eva Huttenlauch and Matthias Mühling

With kind support by the Förderverein Lenbachhaus e.V.


PUBLICATION

The exhibition catalogue is published by Hirmer Verlag, edited by Stephan Berg and Matthias Mühling (352 pages, more than 1.500 images, German/English, price 35 Euro).
The catalogue is available in the museum shop and online.