Work, Power and Control
18 Oct 2012 - 06 Jan 2013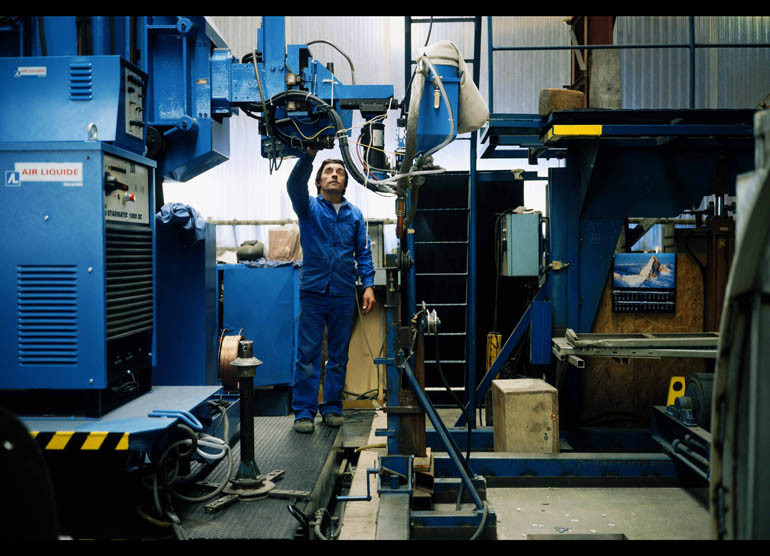 Allan Sekula "Shipwreck and Workers (Version 3 for Kassel)", 2005-2007. MACBA Collection. Consorci MACBA. Artist donation. © Allan Sekula, 2012. Photo: Courtesy of the artist
WORK, POWER AND CONTROL
Critical Episodes (1957-2011). MACBA Collection
18 October 2012 - 6 January 2013

As a preview of the exhibition Critical Episodes (1957-2011). MACBA Collection, which is due to open on November 7, Level 2 of the Museum presents two new episodes of the MACBA Collection. One of these episodes is Work, Power and Control, related to the second globalisation of the 1980s that resulted in a deep transformation of labour and its associated values. The dismantling of the traditional chains of production had direct consequences on individual lives. Societies and their relational systems endured radical changes, while a global scenario of control was gradually being put into place.

Works by: Sergi Aguilar, Ángel Bados, Sandra Balsells, Nestor Basterretxea, Eduardo Chillida, Marcelo Expósito, Pello Irazu, Maurizio Lazzarato, Angela Melitopoulos, Juan Luis Moraza, Jorge Oteiza, Marc Pataut, Falke Pisano, Jaume Plensa, Allan Sekula, Richard Serra, Andreas Siekmann, Susana Solano, Francesc Tosquelles i Krzysztof Wodiczko.

The end of industrial production and the triumph of immaterial work has meant a new way of managing time and human capital. Each floor is dedicated to work, control and power, and to art that reflects the forms of life and production in advanced capitalism. Whereas Andreas Siekmann denounces the current disciplinary mechanisms in contemporary cities, Sandra Balsells portrays future executives and Marc Pataut documents today's large chains of production.

In a central space Allan Sekula photographs jobs on the verge of extinction in different parts of the world. Sailors, blacksmiths, miners and harvesters exemplify the consequences of economic changes on people. These images are confronted with the old tradition of modern sculpture, associated with an obsolete model of heavy industry. This section includes works by Richard Serra, Jorge Oteiza and Eduardo Chillida. And also by Sergi Aguilar, Jaume Plensa and Susana Solano, among others. Their sculptural work is centred on matter and the conditions that make it possible.

A reflection on the old systems of production is also present in the filmic works of Nestor Basterretxea, Marcelo Expósito and Falke Pisano. These artists are concerned with wealth, the industrial landscape and the disappearance of workers' conflicts. Krzysztof Wodiczko has constructed a powerful installation on the new social regime of fear.