Antoni Tàpies
13 Nov 2011 - 19 Feb 2012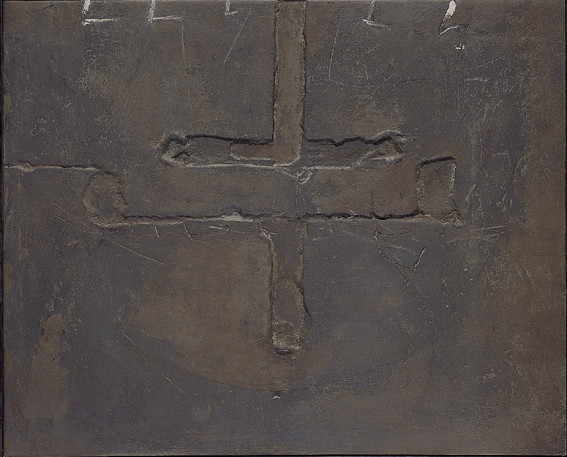 © 2011/2012 Antoni Tàpies VG BILD-KUNST, Bonn
provenience of the images Image Bank VEGAP, Madrid
courtesy Fundació Antoni Tàpies, Barcelon
ANTONI TÀPIES
Image, Body, Pathos
13 November, 2011 - 19 February, 2012

The Museum für Gegenwartskunst Siegen is featuring an extensive, commemorative retrospective exhibition honoring the Catalonian artist Antoni Tàpies (born 1923) from November 13th, 2010 to February 19th, 2011 titled "Pathos: Body and Work". It will showcase 47 works – paintings and two sculptures– from the 1940s to present. The exhibition will comprise pieces from seven decades. Although Germany was very important regarding the reception of Tàpies' work during the sixties to the eighties, his later work is hardly known here.

Antoni Tàpies, who was awarded the Rubens Prize of the City of Siegen in 1972, is without doubt one of the most prominent European painters of the latter half of the twentieth century. His material paintings of sand, cement, granite dust, and paste are inimitable. The paintings also incorporate found objects such as clothes or items of every-day use. Inspired by oriental philosophies, cultural history, literature, music, but also politics, the artist develops a universal iconography using letters, crosses, and symbols. Tàpies employs the picture as a counterpart, a three-dimensional "body" in a dialogue with the artist's own body; it is the manifestation of an existential performative artistic production. The early works' predominant theme is the portrait, mainly the self-portrait. The portrait transforms itself and approaches the body's presence from a different direction. The erotic and maimed body enters into the material tableaus, and, especially in the last years, a distinct death symbolism has become prevalent.

The exhibition "Antoni Tàpies. Image, Body, Pathos" was created in close cooperation with the artist and the Antoni Tàpies Foundation, Barcelona. The exhibition publication includes essays by Sven Aamold, Melitta Kliege, Eva Schmidt, Eulália Valldosera and others.