Destruction to Utopia
20 Jul - 31 Aug 2013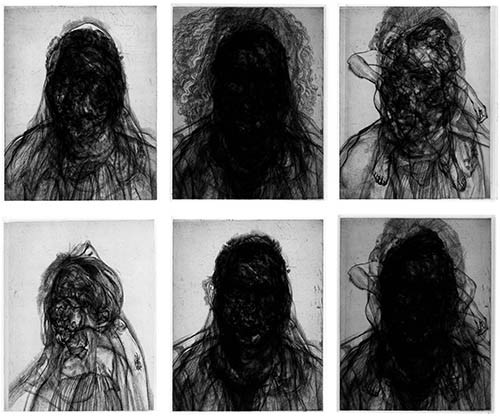 © Glenn Brown
Layered Portraits (after Lucien Freud) No. 1-6, 2008
6 Etchings on paper
Paper: 37 x 29.6 inches (94 x 75.1 cm)
DESTRUCTION TO UTOPIA
Bas Jan Ader, Mike Kelley, Glenn Brown, Christopher Wool, Richard Prince
20 July – 31 August 2013

Patrick Painter, Inc. is pleased to present Destruction to Utopia, a group exhibition featuring the work of well-known contemporary artists Bas Jan Ader, Mike Kelley, Glenn Brown, Christopher Wool, and Richard Prince. In each piece, the artist presents us with an image of renewal rising from destruction.
Late artist Bas Jan Ader left behind a modest but powerful oeuvre that expertly navigates the line between the comedic and mournful. In Nightfall, Ader stands alone in a dark room flanked by two light bulbs. A pregnant pause follows as Ader contemplates a cinder block at his feet. He lifts the block and struggles with the weight of it. He drops the block on one light bulb. Tension builds as he again lifts the block, and suddenly lets it fall on the second bulb. As with many of Ader's films, the action ends at the moment of impact; creating a finality that is at once abrupt and enigmatic.
In late artist Mike Kelley's, Timeless/Authorless (1995), salacious and sordid fictional narratives eke their way into copies of Kelley's hometown newspapers. The newspaper logos serve as a collection of symbols for cities where Kelley exhibited, attended school, or lived. The content varies; some are actual newspaper restaurant reviews and some are Kelley's "recovered memories." The newspaper format serves to juxtapose the myth of "truth" with that which is hidden.
Using portraits by Rembrandt, Urs Graf, and Lucien Freud, Brown scans and digitally manipulates pre-existing images. He creates image composites, which are in turn used to produce a series of printing plates. Through this intricate process, he collapses many images into single ghost-like images, as is seen in his Layered Portrait (After Urs Graf) (2008). Brown creates a new "antiportrait" by first copying, then erasing, and reconstructing the original images.
While Christopher Wool is often recognized for his paintings, his signature large black and white motifs are also present in his photographic series Incident on 9th Street (1997). Here, Wool published a portfolio of the aftermath of a fire at his studio; photographs he had taken for his insurance company. Due to their documentary, matter-of-fact style, the photographs are eerily reminiscent of crime scene photographs. The sensational nature of the images makes the viewer a voyeur.
Richard Prince has been using re-appropriated images since the late seventies to redefine concepts of authorship and ownership. The Girl Next Door (1999) depicts a lone basketball hoop surrounded by overgrown foliage, which adds beauty in a way that lifts the hoop out of the arena of the mundane and redefines it as sculpture through the lens of a changed American cultural landscape. Prince finds quiet moments of beauty in these overlooked and often undervalued features of our world.
Bas Jan Ader's work is currently on display at Klosterfelde Gallery in Berlin, and Hamburger Kunsthalle in Hamburg. Retrospectives of Mike Kelley's work are currently on display at the Hangar Bicocca in Milan and the Centre Pompidou in Paris. Glenn Brown recently had a solo show at Upton House in England, and a group show at the Guggenheim Bilbao, Spain.
Christopher Wool has been exhibited at the Museum of Contemporary Art in Los Angeles, and the Museum of Modern Art in New York. Richard Prince recently exhibited at Gagosian Gallery Hong Kong and the Picasso Museum in Malaga, Spain.