Larry Johnson
03 Apr - 01 May 2010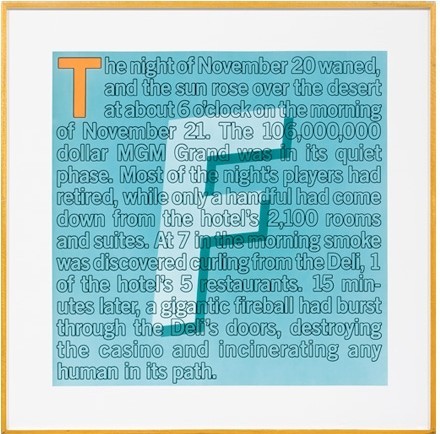 © Larry Johnson
Untitled (Don't drink and drive: winter green and orange), 1989
Color photograph
37 5/8 x 37 1/4 inches
LARRY JOHNSON
Larry Johnson's Hits from the 80's

April 3 – May 1, 2010

Patrick Painter, Inc., is pleased to present a third solo exhibition of works by Los Angeles-based artist Larry Johnson.
This exhibition is an overview of some of Johnson's important early works made during the 1980s. In 1984 Johnson received his MFA from the California Institute of the Arts and began producing stylized textbased works. Influenced by conceptualist Douglas
Huebler's use of language and sharing Richard Prince's fascination with jokes, celebrity culture and class politics in America, Johnson creates complex, multilayered and consciously ambiguous photo-based works. Narratives and dialogues often derived from found materials (newspapers, magazines, recordings) and are refashioned and recontextualized using a bold graphic style. These works often touch on themes involving death, disillusionment, sexuality, celebrity culture and the dark side of Hollywood and the American Dream.
Johnson's obsession with experiences of death in his early work can be seen in relationship to the 1980s outbreak of the AIDS epidemic. He explored this through his "Black Box" series, textbased works inspired by the black box recordings of a plane that crashed into the Potomac River outside Washington, D.C., in 1982. The World's A Mess; It's In My Kiss (1987), uses this notion as its starting point - its composition a literal black box recalling a record sleeve, where Johnson appropriates and re-presents the classic album Los Angeles by seminal local punk bank X, the lyrics, full of despair, desperation and nihilism, rendered in bright multicolored text.
A similar interplay of image and text is seen in the 1989 piece Untitled (Don't Drink and Drive, Wintergreen + Orange). Commissioned as a part of a project for an insurance company, it juxtaposes the trite public safety slogan of the title with a description of a violent explosion at a Las Vegas casino, the horror of this event contrasted by the bright and breezy graphic style of the work.
Also included in the show is Untitled (Sampler) (1989), a piece in which Johnson employs a large, phallogocentric letter "I" to introduce a brief, first-person narrative. In critic Dave Hickey's analysis, one's appreciation of the graphic irony of the looming phallic symbol inserts an "ironic" author behind it and assumes some conscious presence about who is "ironically" expressing the "true" sentiments in Johnson's text. However, Hickey states any determination we make about the "authority" of this sentiment depends solely on one's own fiction of that author's persona, which therefore depends on one's reading of his work. Thus, Hickey concludes, we are set free upon our own recognizance.
Larry Johnson was born in 1959 in Lakewood, California, and currently lives and works in Los Angeles, California. He received his BFA and his MFA from the California Institute of the Arts in 1982 and 1984 respectively. His work has been featured in exhibitions at the Hammer Museum in Los Angeles, the Museum of Contemporary Art, Los Angeles, the Centre Pompideau, Paris, Louisana Museum, Denmark and at the Whitney Museum of American Art in New York.