Major Works on Paper
25 Jul - 22 Aug 2009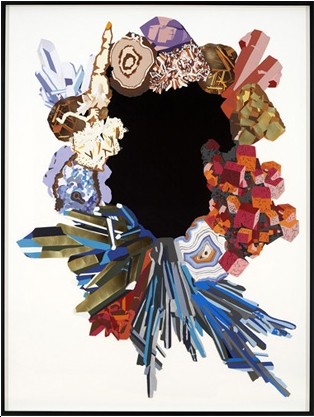 © Francesca Gabbiani
The Healers, 2008
Colored paper, gouache, and acrylic on paper
59 x 43 1.2 in (149.9 x 110.5 cm)

MAJOR WORKS ON PAPER

July 25 – August 22, 2009

André Butzer
Francesca Gabbiani
Mike Kelley
Albert Oehlen
Sigmar Polke
Jim Shaw

Patrick Painter Inc. is pleased to announce this summer's group show Major Works on Paper. Featuring works by Sigmar Polke, Francesca Gabbiani, Jim Shaw, Albert Oehlen, Mike Kelley, and André Butzer. While likely the most humble of artistic means, paper is nevertheless of fundamental importance in the process of artistic production. Indeed, it could probably be argued that virtually every artistic idea has its beginning on the intimate surface of this commonplace material.
In his fifty-year career, Sigmar Polke has been extremely prolific. Polke's oeuvre is unique not only in its diversity and volume, but most importantly in its ability to attract and confound all types of audiences. The energy and allure of his photographic works come from their mysterious manipulations, darkroom deconstruction, and chemical experimentations. His images rarely give way to a surface reading; instead, they oscillate between the incredibly familiar and the frighteningly foreign. Critics often speak of the "protoliterate" quality of Polke's work. Perhaps it is this quality that makes the work so universally accessible – a certain base legibility that does not require language, instead merely a feeling.
Francesca Gabbiani's collages depict charged moments that evoke portals to other states of consciousness or often suggest empty spaces where something sinister is about to happen or has already occurred. But the truly mystifying element of her work comes with the realization that her images are constructed from intricate pieces of painted hand-cut paper. Her work embodies a painterly quality through its inherent ornate ness, whilst grounded in her continued interest in architecture, cinema and more recently the natural and supernatural.
Jim Shaw has long admired the works of illustrators and special effects artists (he himself toiled for many years in the field of effects, animation, storyboards and illustration). Particularly the blank areas in illustrations left to accommodate projective texts, titles or, in the case of matte paintings, actors, have drawn him. Not meant to be seen by the general public, lost to sales, they lapse into the enigmatic. These empty spaces are spaces of transformation. For that they are bases and inspiration for this body of new works.
Throughout his career, Oehlen has challenged the received notions of painting and its gravitas. In the 1980's, he and his contemporaries became known for their off the cuff interpretations of the history they were inheriting, especially savoring the influences of abstract expressionism and pop art. In his work, Oehlen has brought aspects of the history of painting into the present and a smirking sense of humor to his work. He rejects the notion that art should service ideology. Still, his approach has been nothing if not critical, but that has meant: work in and through the media to demystify the process and the relation. In that sense his works do not depend on or illustrate philosophical frameworks as such, are not analyses. Rather, they consist in what they make evident and, in that, reflect conditions of production and being. Mike Kelley, one of the most influential American artists of his generation, makes images that articulate webs of reference linking popular culture, psychoanalytic issues and matters related to class, race and gender. Using an eclectic range of materials and images, Kelley's art is driven by an intense questioning of aesthetic forms and social norms. At once visceral and intellectually challenging, his installations frequently provoke viewers to reconsider their usual ways of processing information.
Since his debut show at Patrick Painter Inc. in 2004, Butzer's work has become increasingly complex, both in color palette and compositions, and in turn, increasingly accessible. While retaining the aggressive character that lies at the core Butzer's oeuvre, these new paintings possess a certain, heightened whimsical feeling not found in his earlier work. These giant works are impressive not only in their scale, but even more so in their application of paint.
The world of a sheet of paper encompasses every artistic possibility from the most meticulously fashioned drawing in pencil or ink, to the study sketch and unresolved idea right down to the most ephemeral of gestures. It is likely this endless possibility that lends works on paper their fascinating character. The diverse range of material practices that each of these artists brings to their work is symbolic of the fundamental significance of paper in the development of artistic ideas and forms.