Mike Kelley
02 May - 11 Jul 2009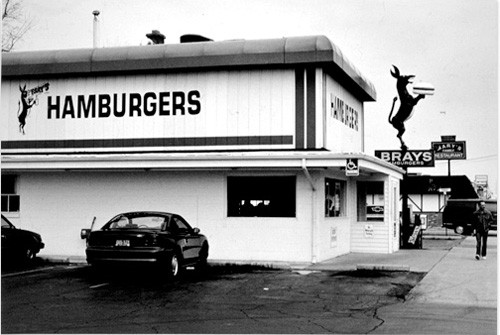 © Mike Kelley
Photo Show Portrays the Familiar 1-26 (Detail), 2001
A series of twenty-six silver-gelatin prints, framed
16 x 20 inches (40.6 x 50.8 cm)
MIKE KELLEY
A Selection of Photo Editions

May 2, 2009 – July 11, 2009

Patrick Painter Inc. is proud to present an exhibition of selected photos from Patrick Painter Editions by Mike Kelley at our East Gallery. The exhibition is comprised of photographs of Mike Kelley's series Timeless/Authorless, The Poetry of Form, and Photo Show Portrays the Familiar 1-26.
Patrick Painter Editions began in 1991 in Vancouver, Canada, with a single artist. At this time, editions were not the popularized medium they are today. Since then, Patrick Painter has worked towards creating a foothold for editions in the art world. Today, Patrick Painter represents forty editions artists, both nationally and internationally.
Timeless/Authorless, 1995 is a series of black and white photo/text works. Generally, the works mimic the appearance of hysterical outburst in newspaper clippings. A newspaper masthead tops each panel; these are the mastheads of local newspapers from cities where Kelley has either lived, attended school, or regularly exhibits his artwork. The content of the individual panel texts fluctuate between actual newspaper restaurant reviews and "recovered memories" of Kelley's.
The format of the newspaper clipping was chosen because of its veneer of "truth," and the restaurant review specifically because it is the most commonly experienced example of a critical newspaper review.
The Poetry of Form: Part of an Ongoing Attempt to Develop an Auteur Theory of Naming, 1985/96 is a series of silver-gelatin prints. According to Kelley, "These photographs of cave formations, titled The Poetry of Form, were shot during 1984 and 1985. They are part of the project 'Plato's Cave, Rothko's Chapel, Lincoln's Profile' which was concluded in 1986 with a performance done in New York at Artists Space".
Photo Show Portrays the Familiar 1-26, 2001 is a series of twenty-five black-and-white documentary-style photos of islands in the Detroit River and sites and sightings in and around the neighborhood where Kelley grew up: the Eloise Mental Hospital, Zug Island, the Kelley's house in Westland, MI, and a glass test tube containing "Edison's Last Breath" at the Henry Ford Museum. Born in 1954 in Detroit, Michigan, Kelley earned his BFA at the University of Michigan in Ann Arbor, Michigan in 1976. His education was completed in 1978, when he earned his MFA from the California Institute of the Arts in Valencia, California.
During his career, Kelley's works have been displayed in over one hundred solo exhibitions, including recent shows in New York, London, Belgium, and Germany. He has had solo exhibitions at institutions around the world, including Le Musee du Louvre in Paris and Tate Liverpool in England. His works have also been included in over three hundred group exhibitions, including exhibitions at the Whitney Museum of American Art, the Los Angeles County Museum of Art, and the Museum of Contemporary Art in Los Angeles.