Selections From the Collection of Blake Byrne
22 Nov 2014 - 10 Jan 2015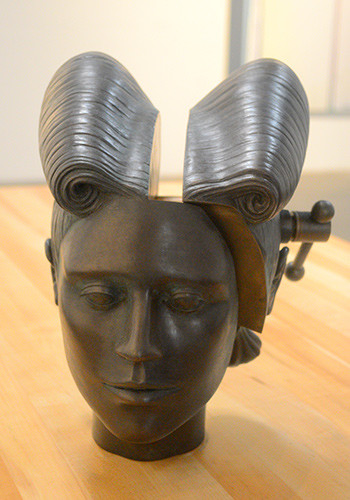 © Jim Shaw
Dream Object (Vise Head), 2006
Bronze, wood, and steel
47 x 54 x 35 1/2 inches 119.4 x 137.2 x 90.2 cm) Edition of 5, AP 1 / 2
SELECTIONS FROM THE COLLECTION OF BLAKE BYRNE
22 November – 10 January 2015

Curated by Barbara Schwan

Patrick Painter, Inc. is pleased to present, "Selections From the Collection of Blake Byrne," a group exhibition featuring work by fifteen artists including: John Baldessari, Hernan Bas, Dirk Bell, Nayland Blake, Marlene Dumas, Sam Durant, Mike Kelley, Martin Kippenberger, Juan Muñoz, Thomas Scheibitz , Jim Shaw, Luc Tuymans, Mark Wallinger, and Toby Ziegler. The exhibition is curated by Barbara Schwan, and showcases important work from the esteemed collector's vault.

Throughout her extensive career, Marlene Dumas has pushed the limits of depictions of gender, sexuality, violence, and death in her work. Drawing from a range of sources including newspapers, magazines, photographs, and pornography, Dumas creates images that are simultaneously grotesque, sensual, and disturbingly beautiful. This exhibition will feature two works on paper; It's the singer, but not the song (1994), and Little Boy (1991). The two pieces excellently showcase her unique signature style.
Dumas invites us to explore a intricate array of human emotions.

Sam Durant's politically charged work often engages issues of culture and our understanding of American history. Oriskany Battle Monument (2005) is a replica of the obelisk which commemorates a 1777 battle in the American War for Independence. The Battle of Oriskany, New York, began as an ambush by British, Seneca, and Mohawk Indian troops on unsuspecting Americans. The piece confronts many complex issues.
Firstly, it demonstrates the symbolic power of a war monument to deemphasize and neutralize violence. For Durant, the purpose of such monuments is to provide a historical narrative that justifies violence and loss of life by glorifying the victorious. Secondly, it serves as a reminder of the systematic erasure of First Nation peoples from the cultural psyche.

Toby Ziegler challenges the viewer with a visual vocabulary that is both familiar and futuristic. Ziegler's sculptures transform geometric patterns into objects. These cardboard objects are painted white, creating forms which are both indistinguishable and recognizable. Study for True North (2nd Version) (2007), a work that references Gustave Courbet's Origin du Monde (1866), is a sculpture in the shape of a human rear end. The viewer's projections onto Ziegler's works are part of the play between meaning and ideation. Many of the works draw inspiration from clouds, and the romantic practice of designating recognizable forms to the ephemeral floating shapes that float across the sky. Just as we assign human-like qualities to objects, we make a futile attempt to define what cannot be defined.

Blake Byrne's Skylark Foundation, established in 1997, is currently supporting an exhibition of Byrne's collection including gifts to MoCA and the Nasher Museum at Duke University. The exhibition will travel to four universities across the nation: The Nasher Museum at Duke University in North Carolina, Ohio State University, Columbia University in New York, and Lewis & Clark College in Oregon.