People in a River Landscape
02 Apr - 24 Aug 2014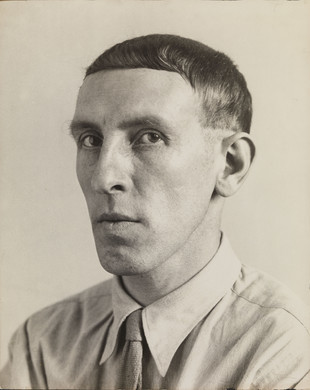 August Sander,
Painter [Heinrich Hoerle], 1928
Collection Lothar Schirmer, Munich © Die Photographische Sammlung /SK Stiftung Kultur – August Sander Archiv, Köln
VG Bild-Kunst, Bonn 2014
PEOPLE IN A RIVER LANDSCAPE
August Sander and The Photography Of The Present From The Lothar Schirmer Collection
2 April - 24 August 2014

August Sander's epochal cycle »People of the 20th Century« is considered one of the most important works in the history of art and photography of the last century.
Sander's photographic typology of German society did not only fascinate artists, writers and philosophers of that period but, at the same time, formed an important point of reference for the artistic concept contemporary photographers had of themselves. This is also reflected in the Munich publisher Lothar Schirmer's photographic collection, the starting point of which was a group of some 80 works by Sander comprising not only portraits, but also landscapes and urban pictures, acquired in the early 1970s. Sander's photographs from this collection will be exhibited for the first time in their entirety and be displayed in dialogue with works by contemporary artists such as Bernd and Hilla Becher, Andreas Gursky, Thomas Ruff, Cindy Sherman, Thomas Struth and Jeff Wall. The selection will be extended by a rare group of extraordinary photographs taken in Berlin by Heinrich Zille in the late 19th /early 20th century and enlarged by Thomas Struth almost 100 years later.