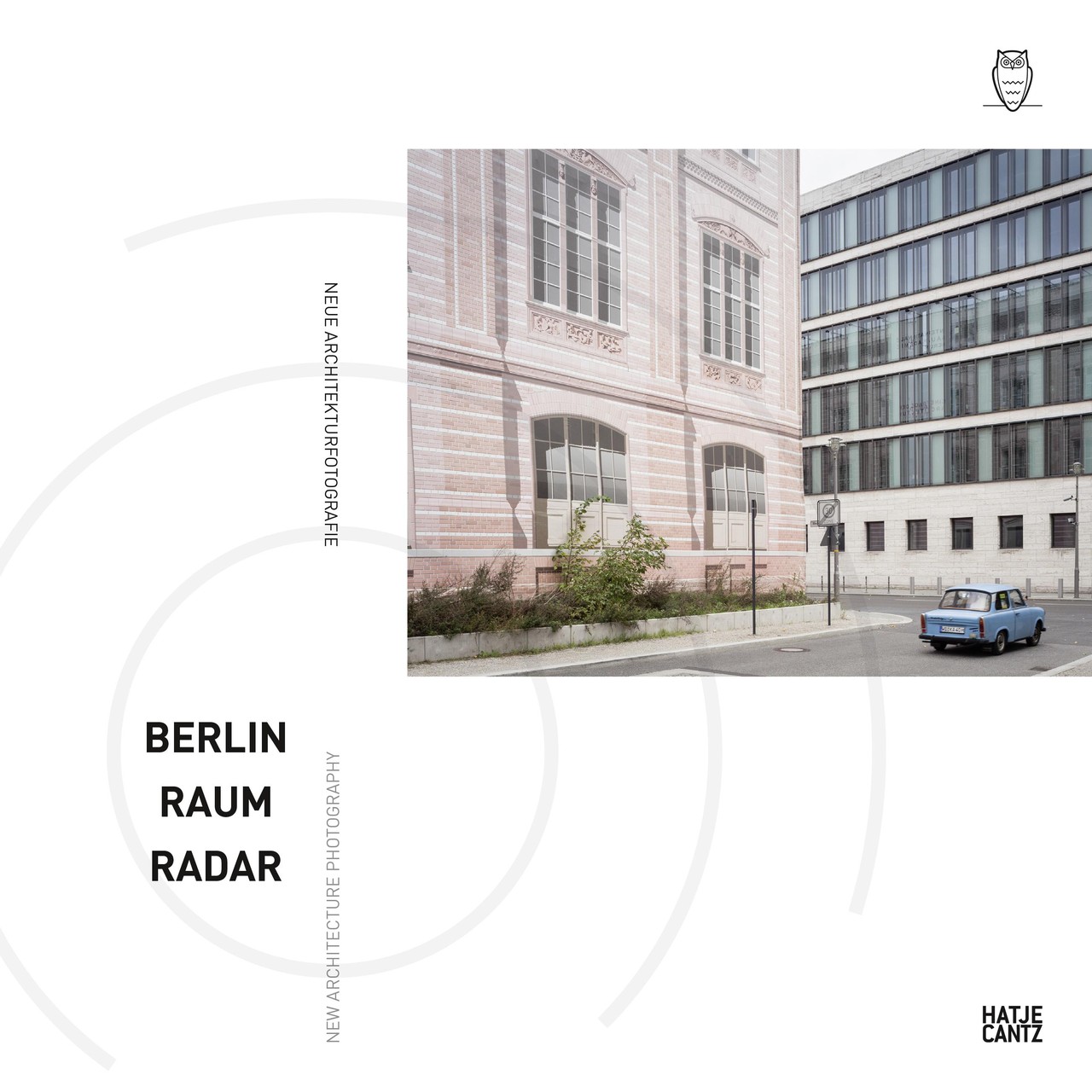 Berlin Raum Radar - Neue Architekturfotografie, Hatje Cantz, 2016
BERLIN RAUM RADAR - NEUE ARCHITEKTURFOTOGRAFIE
Edited by Nadine Barth
Publisher: Hatje Cantz
Year: 2016
Pages: 128
Language: Deutsch, English
Cover: Hardcover
Size: 22 x 22,20 cm
Type: Book
Status: New
ISBN: 978-3-7757-4179-8
Price: € 25.00
Link: http://www.hatjecantz.de/berlin-raum-radar-6794-0.html
Bildwelten des Wandels
Nicht nur wir bewegen uns täglich durch den städtischen Raum. Es ist auch die spezifische Gestaltung dieses Raumes, die uns bewegt und anleitet. Wie in kaum einer anderen Stadt wird dies in Berlin spürbar. Seit der Wende ist das Stadtbild einem beständigen Wandel unterzogen, der von unzähligen einzelnen Bauvorhaben über die Umwidmung bestehender Gebäude bis zur Umwälzung ganzer Bezirke reicht. Der Ausstellungskatalog Berlin Raum Radar macht sich auf die Spurensuche nach dieser urbanen Morphologie. In über 80 Werken vereint er künstlerische Auseinandersetzungen mit dem städtischen Raum Berlins innerhalb der letzten 15 Jahre. Ob einfühlsame Detailstudie, philosophische Observation oder gestalterische Vision – die verschiedenen Perspektiven bilden ein Panorama der Veränderungen Berlins. Und sehenden Auges vollzieht man einen Wandel nach, der nicht nur das Erscheinungsbild einer Stadt, sondern auch unsere Wahrnehmung von ihr ebenso nachhaltig und auf immer neue Weise prägt.
Die vorgestellten Fotografen: Menno Aden, Iwan Baan, Sibylle Bergemann, Peter Bialobrzeski, Ben de Biel, Tacita Dean, Mitch Epstein, Christine Fenzl, Andreas Gehrke, Alexander Gnädinger, Markus Henttonen, Ola Kohlemainen, Stefan Koppelkamm, Dawin Meckel, Arwed Messmer, Ingo Mittelstaedt, Andreas Mühe, Robert Polidori, Blaise Reutersward, Yoram Roth, Pola Sieverding, Sarah Schönfeld, Michael Schulz, Dorothea Tuch, Friederike von Rauch, Julia Wagner, Michael Wesely, Ulrich Wüst, Harf Zimmermann
Ausstellung: Neue West, Berlin 29.4.–6.5.2016
---
Visual worlds of change
Not only do we move ourselves daily through urban space, but it is also the specific design of this space that moves and guides us. In almost no other city is this more apparent than in Berlin. The cityscape has undergone permanent change since its reunification that ranges from hundreds of individual construction projects and the conversion of existing structures to the upheaval of entire districts. The exhibition catalogue Berlin Raum Radar sets out to trace this urban morphology. In more than eighty works it brings together artistic examinations of urban space in Berlin from the past fifteen years. Whether sensitive detail study, philosophical observation, or creative vision—the various perspectives constitute a panorama of the changes in Berlin. With eyes wide open, one can trace a transformation that not only characterizes the appearance of a city but also equally influences our perception in lasting and continually new ways.
The featured photogrphers: Menno Aden, Iwan Baan, Sibylle Bergemann, Peter Bialobrzeski, Ben de Biel, Tacita Dean, Mitch Epstein, Christine Fenzl, Andreas Gehrke, Alexander Gnädinger, Markus Henttonen, Ola Kohlemainen, Stefan Koppelkamm, Dawin Meckel, Arwed Messmer, Ingo Mittelstaedt, Andreas Mühe, Robert Polidori, Blaise Reutersward, Yoram Roth, Pola Sieverding, Sarah Schönfeld, Michael Schulz, Dorothea Tuch, Friederike von Rauch, Julia Wagner, Michael Wesely, Ulrich Wüst, Harf Zimmermann
Exhibition: Neue West, Berlin 29.4.–6.5.2016