I COULD BE SO LUCKY, LUCKY, LUCKY, LUCKY CATALOGUETEXT, I COULD BE SO LUCKY, LUCKY, LUCKY, LUCKY WITH LENA MALM AND NIKOLAJ RECKE, ENKEHUSET IN STOCKHOLM 2001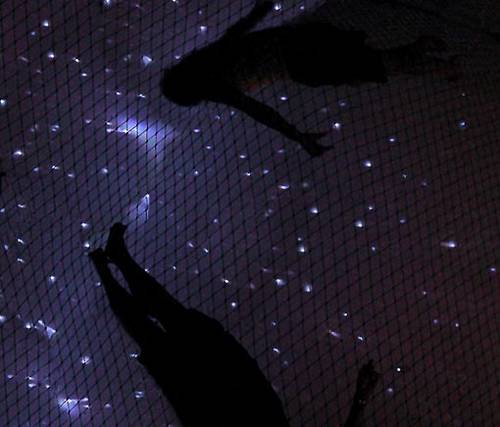 The idea that finding a four-leaf clover brings happiness is globally spread, and originates in a biblical story where Eve brought a four-leaf clover out of Paradise. The artists Lena Malm and Nikolaj Recke worked simulateneously with clovers, in very similar projects, in two separate countries, and without knowing about each other. They both cultivated clovers in a long and demanding process in order to develop and breed four-leaf clovers. When they had enough plants, they arranged them into fields that then were exhibited in various contexts.

I don't know if it is because I was born and raised in a real deep red hippie-community, but the first things I did with the clovers, was to plant them in public parks here in Copenhagen. For me there were some banal thoughts behind this, surely with the simple thing in mind to give people (not the ordinary art audience) a bigger possibility to find happiness. It has nothing to do with "utopia" or "wonderworld," but a simple gesture in order to make people happy. (Nikolaj Recke)

Wanting to make the fellow man just a little bit happier, and possibly a bit more fortunate, would pass for "nice," but actually undertaking this is indeed generous. These artworks are many-faceted, and they open up a lot of questions – not only about superstition and hope for luck, but also about what fortune really is; about the politics of redistribution; or if it is possible to "clone" happiness. One is easily led to the territory of ethics or moral philosophy while contemplating this.
Then we have the dichotomy between nature and culture, which is a striking aspect of the cloverfields that Nikolaj and Lena have exhibited inside the white cube. It must be a really strange experience to walk into the gallery expecting an "ordinary" art exhibition, and then to find yourself in a meadow connected to the outside world, but actually inside. And then, after a while, you discover that the meadow mainly consists of four-leaf clovers. It must be almost surreal.

To be able to create an artwork that makes one forget that it actually is art you're looking at excites me, and I find this fascinating. This was also why I built the Cloverfields. People just come in and forget that it is art. (Nikolaj Recke)

Power, you once wrote that you were a "sucker for experiences,", which applies to me as well, both when looking at art and in my own work. I want something to get into my brain or into my heart... like a mental alien or something. (Lena Malm)

This seductive Alice-in-Wonderland-feeling is important for this exhibition, and highlighting this has been essential. The ultimate starting point, however, was the fact that two artists made the exact same artwork during the same period of time. What does this mean? It may not be so unusual that two artists, having the same kind of background, in the same period and both trained in Western art schools, would in fact create similar kinds of art. But this is surely very rarely thematized as such – in fact, it is more likely to come across as slightly embarrassing. And still, in the age of re-re-reproduction, the Modernist discourse of originality, uniqueness, and "who-was-first?" are essential rules in the game of art, even though editions and multiples have become perfectly acceptable phenomena. But would the fact that either Lena or Nikolaj were to have been one day ahead of the other in any way change how we in look at the cloverfield-piece?
The artwork remains there as a trigger of our experiences, and we still experience the same fairytale-feeling when lying in the field counting leafs.
In this connection, it is a bit ironic that the four-leaf clover may be so interesting, or "fortune-bringing," mainly because it is so distinctive and so different from the other more common three-leaf clovers. The four-leaf cloverfields twist this thought into absurdity, since the uncommon is elevated to something quite common. The extraordinary and exceptional is engendered, repeated, and multiplied, thus challenging our perceptions as well as our pre-conceptions. Both Lena and Nikolaj have earlier been preoccupied with questions relating to the original vs. the copy, the multiple, and the re-making of art. Lena has, in an attempt to figure out if there could be a "more true" original, been re-painting her own paintings numerous times. Will the first painting be reduced to the status of a sketch after the next painting has been made, or will the second painting become a copy? Another piece that she did was directed towards her own self, and is called "Have you ever wondered how many people have the same as you? I did. " For this piece she contacted every girl/woman in Sweden with the same name as herself, "Lena Malm". Every Lena Malm had their picture taken by a local photographer, and the picture was enlarged and sent to Lena Malm, the artist. Almost every Lena Malm that participated, 60 altogether were flown in to Stockholm for the opening night at Moderna Museet, and they all enjoyed a dinner together. Nikolaj has made re-paintings of Yves Klein, as well as small "Robert Morris sculptures," and felt-installations. Minimalism and theatricality frequently occur in his works, like in Party next door or Touched by Your Presence. In Party Next Door, all that the spectator could perceive was the muffled sounds of a typical party next door – thumping, screaming, singing along with the loud music, and so on. The gallery was empty – there was just the sound from a real party going on somewhere else.

In Touched by Your Presence Nikolaj worked together with the artist ChristianHeide to make an echo chamber. The room was empty in this piece as well, and when someone spoke the words soon returned as a distorted echo.
The exhibition at Galleri Enkehuset already starts outside, in the green environment of Enkehuset. Clovers have been planted in patches here and there around the building, making it possible not only for the exhibition-goers, but for everyone passing by, to find a special four-leaf clover, and hopefully feel just a little bit more lucky. There is also a special treat for those that decide to go inside the gallery, where a video is projected on the ceiling, portraying a special phenomenon – hundreds of shooting stars. For those that dare, the artists offer an unexpected possibility of experiencing their own participation in the exhibition: the spectator is invited to climb a stretched net, a circus net, one by one.
The processes before the exhibition have been important, since they have allowed us to work out the parameters in an open "trialogue." The overall experience is important in the exhibition at Galleri Enkehuset, just as for the four-leaf cloverfields. The exhibition connects with the cloverfields in other ways as well – the falling star connotes wishful thinking about happiness, and also deals with the correlation of nature and culture. Another parallel would be the idea of duplication – is it possible to have numerous wishes come true when wishing upon numerous falling stars – "the more four-leaf clovers the more good luck you get," as it were?

Another parameter has been the simplicity, an almost minimalist approach, with an edge of conceptuality that is not immediately visible, although the twist certainly lies there. What happens when two artists collaborate? And what happens when a curator is interfering with the creative process? One result is the exhibition at the Galleri Enkehuset presently, and the folder in your hand.