PS1 Courtyard
an experiment in creative ecologies, featuring Rashid Johnson's "Stage"
17 Sep 2020 - 01 Oct 2021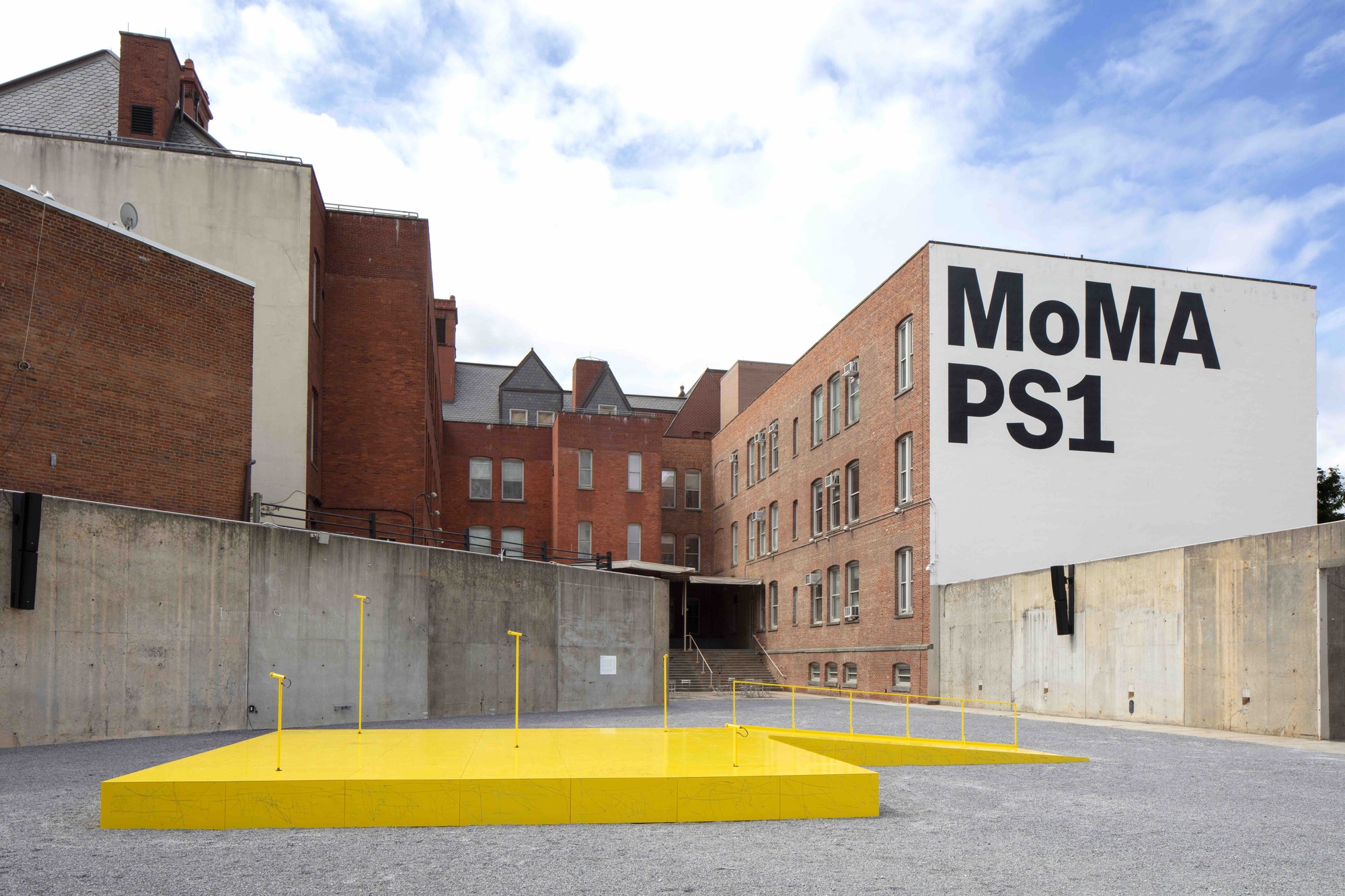 Installation view of Stage by Rashid Johnson, on view at MoMA PS1, New York. Image courtesy MoMA PS1. Photo: Matthew Septimus
This fall, MoMA PS1 will launch PS1 COURTYARD: an experiment in creative ecologies, a year-long program to reimagine the uses of and access to the Museum's outdoor courtyard, which is the interstitial space between the institution, its neighborhood, and the community. Featuring a series of new initiatives, including a participatory installation by artist Rashid Johnson, a series of Thought Collectives that will test out creative and forward-thinking propositions for the use of public space, and a generative commissioning program to reanimate the Courtyard's concrete walls, the program will recast one of the few plots of open land in Long Island City—the fastest growing residential neighborhood in the US and a site of rapid gentrification—as a place for experimentation and engagement with urban ecologies.

"Courtyards are, by their nature, meeting places between built environments." said Kate Fowle, Director of PS1. "Through these initiatives, we are metaphorically breaking down the concrete walls and transforming the courtyard into a year-round laboratory for exploring the potential of equitable, sustainable, and creative interaction that can test out future thinking for new models of how and why we gather, and whose voices and narratives are amplified.

The centerpiece of the courtyard is Rashid Johnson's Stage, a participatory installation and sound work that draws on the history of the microphone as a tool for protest and public oratory, while recalling the metonymic references to microphones in hip-hop lyrics from the 1980s to the present. The work features a yellow powder-coated stage, with Johnson's signature markings, on which stands of varying heights hold five SM58 microphones, the legendary model that has become an music industry standard since its introduction to the market in the mid 1960s. Echoing unofficial sites of public intellectual and cultural life, such as Speaker's Corners in London's Hyde Park and Harlem's 135th Street and Lenox Avenue, the public is invited to step up onto the stage and speak their mind from Johnson's Stage. Participants' statements will be recorded and rebroadcast into speakers installed throughout the courtyard. Rashid Johnson: Stage will also function as a flexible site for programs and performances, featuring performers, poets, activists, and musicians, all available on MoMA PS1's digital platforms as an archive that captures the urgencies and interests of our unstable times.

PS1 COURTYARD: an experiment in creative ecologies is supported by Bloomberg Philanthropies.

Major support is provided by Allianz, MoMA's partner for design and innovation.

Generous funding is provided by the Bertha and Isaac Liberman Foundation, Jeffrey and Michèle Klein, and MoMA's Wallis Annenberg Fund for Innovation in Contemporary Art through the Annenberg Foundation.

Support for Rashid Johnson: Stage is provided by the Junior Associates of the Museum of Modern Art.