Altermodern: Tate Triennial 2009 Prologues
26 Apr 2008 - 17 Jan 2009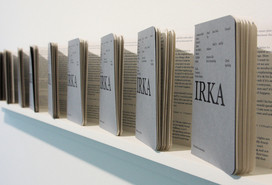 © Flávia Müller Medeiros
Irka 2007
Book of 36 pages in edition of 800
Image courtesy Gasworks. Photo: Matthew Booth
ALTERMODERN: TATE TRIENNIAL 2009 PROLOGUES

26 April 2008 – 17 January 2009

Tate's fourth Triennial exhibition, curated by Nicolas Bourriaud who co-founded the Palais de Tokyo in Paris, opens at Tate Britain in February 2009. It explores a new concept, defined by him as 'the Altermodern'. The term describes art made in today's global context which is a reaction against standardisation and commercialism.
A series of one-day events, or Prologues, are taking place in the lead up to the show, to introduce and provoke debate on the Triennial's themes. Each Prologue includes films, performances and talks.