H-Box
13 Jun 2008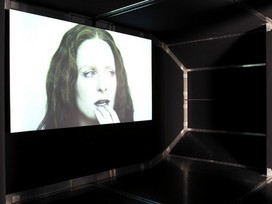 H-Box installation view at MUSAC, Museo de Arte Contemporáneo de Castilla y León, Photo: © Marc Domage

3 July – 17 August 2008

H-Box is an innovative, roaming screening hall, presenting major new video commissions by eight international artists, on the bridge overlooking the Turbine Hall. Designed by architect Didier Fiuza Faustino, the unique structure hosts a rotating, diverse programme of videos by Alice Anderson, Yael Bartana, Sebastián Díaz-Morales, Dora García, Judit Kúrtag, Valérie Mréjen, Shahryar Nashat, and Su-Mei Tse.

H-Box is a free-standing space with state-of-the-art visual and audio equipment that will travel the world. The itinerant nature of the structure and the commissions shown within it highlight the exciting fluidity of a medium that continues to reshape globally the twenty first century.