Centenary of the St Ives Times
02 Oct 2010 - 09 Jan 2011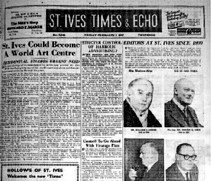 The St Ives Print and Publishing Company
St Ives & Echo Newspaper 1950
The St Ives Print and Publishing Company © The St Ives Print and Publishing Company. Photo: The St Ives Print and Publishing Company
CENTENARY OF THE ST IVES TIMES:
A Newspaper in the World of Art
2 October, 2010 – 9 January, 2011

1 October 2010 marks the 100th edition of The St Ives Times and Echo, the town's local newspaper. To commemorate this occasion Tate St Ives has invited members of the community to select stories and front covers about artists from the St Ives Colony. Figures like Barbara Hepworth and Peter Lanyon, to name but a few, were not only internationally renowned artists but also local people whose lives were firmly rooted in their community and played out in their local paper.

This display, in the Café runs alongside a broader exhibition A Newspaper in St Ives: The Centenary of the St Ives Times (3–8 October 2010) at the Crypt, St Ives where some of the major campaigns that The St Ives Times and Echo has been involved in during its 100 editions are on display. Tate St Ives would like to thank everyone who has contributed their time and enthusiasm to this project, with special thanks to The St Ives Times and Echo.