Kaboom!
15 Jun - 06 Oct 2013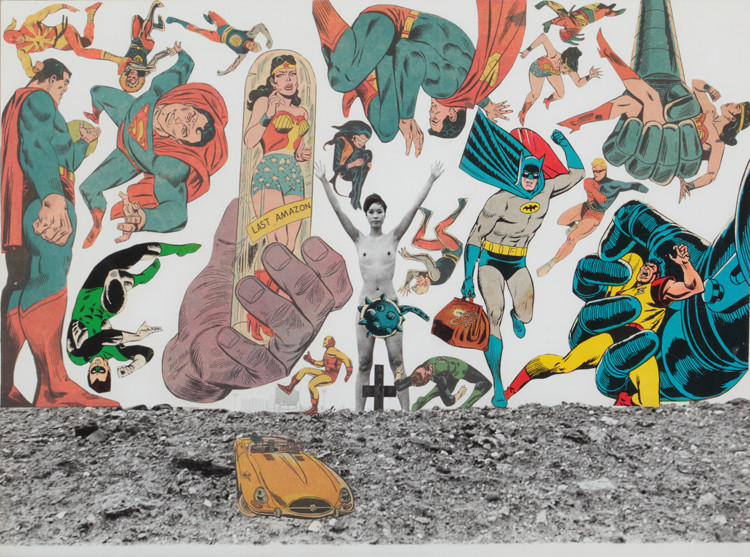 © Keiichi Tanaami
Comic strip, 1967
courtesy Galerie Gebr. Lehmann, Berlin / Dresden und Nanzuka, Tokyo
KABOOM!
Comics in Art
15 June - 6 October 2013

Comic strips and cartoons have been a constant source of inspiration for artists since the very beginning. But it was only with British and American Pop Art that the world of speech balloons made its grand entry into galleries and museums. Roy Lichtenstein, Öyvind Fahrström, and many other artists introduced the aesthetic of comics into their paintings. In this way, they provocatively undermined the distinction between popular culture and established art. The Weserburg is taking up this theme with a large-scale exhibition. On display are works by more than thirty international artists. They offer an impressive demonstration of the influence of comics on contemporary art from the nineteen-fifties until today.

Particular emphasis is being given to the works of a younger generation of artists. They bear witness to the contemporaneity and innovative energy which today still emanates from an involvement with comics. These works make use of the visual worlds and formal peculiarities of comics in an exciting and unusual manner. Transcending genres, the artists work with paintings, collage, video, and drawings, as well as creating sculptures and space-encompassing installations. In so doing, they do not reproduce a supposedly naive and cheerful surface. Instead, they conduct a critical investigation of aesthetic and social phenomena, and this frequently occurs with wittiness, humor, and biting irony.
In her harsh, black-and-white paintings, the American artist Joyce Pensato brings to the fore another, darker side of comics which confronts us with the ugly and the grotesque. Martin Arnold uses sequences from Disney animated films and turns the heroes of childhood into ghostly revenants. Innocuous motifs are transformed into eerie scenes. For their part, the drawings of Raymond Pettibon are suffused with the spirit of Punk and Underground. They are capable of engaging in a veritable dissection of the sensibilities of Western society.
One overarching theme is that of the superhero. The Afro-American performance artist William Pope.L, for example, donned a Superman outfit and crawled the entire length of Broadway in New York. In a bizarre inversion of the white superhero, he dismantled the myth of American omnipotence in a striking manner. This work with the notable title The Great White Way has been brought up-to-date in a special form. Already in 1967, Keiichi Tanaami, a representative of Japanese Pop Art, made the stumbling, broken hero the theme of a collage. He thereby created an ironical counter-image to the Western influence on postwar society in Japan.

The invited artists take up familiar motifs and narratives of comics which they process, deconstruct, and reassemble in a new shape. Many of the works are from time to time disturbing psychograms of society with surprising, subversive-political allusion. With deliberate reference to comics, art accordingly attains new forms of visual expression; it becomes the site of special aesthetic experiences and recognitions.

Artists of the Exhibition
Siemon Allen (ZA), Martin Arnold (A), Dara Birnbaum (USA), Peter Blake (GB), William Copley (USA), Reinhard Doubrawa (D), Erró (IS), Öyvind Fahlström (SE), Gerard Hemsworth (GB), Arturo Herrera (VE), Andy Hope 1930 (D), John Isaacs (GB), Bertrand Lavier (FR), Mark Leckey (GB), Roy Lichtenstein (USA), Michel Majerus (LU), Christian Marclay (USA), Kerry James Marshall (USA), Matt Mullican (USA), Juan Muñoz (ES), Rivane Neuenschwander (BR), Chris Ofili (GB), Joyce Pensato (USA), Raymond Pettibon (USA), Sigmar Polke (D), William Pope.L (USA), Mel Ramos (USA), Allen Ruppersberg (USA), Francesc Ruiz (ES), Keiichi Tanaami (J), John Wesley (USA), Sue Williams (USA), Jordan Wolfson (USA).