Ana Mendieta
19 Feb - 20 Mar 2010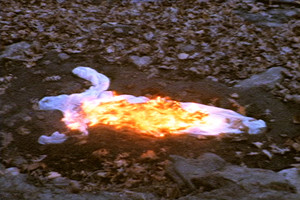 Ana Mendieta
Alma Silueta en Fuego (Silueta de Cenizas) 1975
Super-8 colour, silent film transferred to DVD running time: 3 minutes, 30 seconds
ANA MENDIETA
"Silueta and Silence"

Opening Reception, Thursday 18 February 6 - 8 pm

"It is this sense of magic, knowledge and power, found in primitive art, that influences my personal attitude to art-making...I have been working out in nature, exploring the relationship between myself, the earth, and art...Through my art, I want to express the immediacy of life and the eternity of nature." Ana Mendieta, 1978

The first ever exhibition in the UK devoted solely to the work of Cuban-born artist Ana Mendieta (1948-1985) reveals the enduring power of one of the most singular voices in contemporary art. Despite a number of major museum surveys in Europe and America since her tragic death at the age of 36, and being represented in such renowned collections as the Met, the Whitney, the Guggenheim, SFMOMA and the Pompidou, Mendieta's unique fusion of performance, body, land and process art practices has until now only been on view in Britain, and only recently, as part of the permanent collection at Tate Modern. This survey of work that has rarely been seen anywhere in the world focuses on vintage photographs of her silueta series, a number of films of her performances and a restaging of an important performance-installation piece, affording a rare opportunity for British audiences to discover in depth this inimitably passionate artist. An artist who both inhabited and transcended her status as a woman and a Latin American émigré, Mendieta's generous embrace of a wide range of media, from film, photography, drawing and installation, and her poetic, meticulous explorations of the complexity of human identities foreshadowed many disciplinary and conceptual developments in art during the last two decades, making her one of the most significant yet unacknowledged artists of the late twentieth century.

The exhibition is organised in cooperation with Estate of Ana Mendieta Collection and Galerie Lelong.