Matt Saunders
09 May - 12 Jun 2010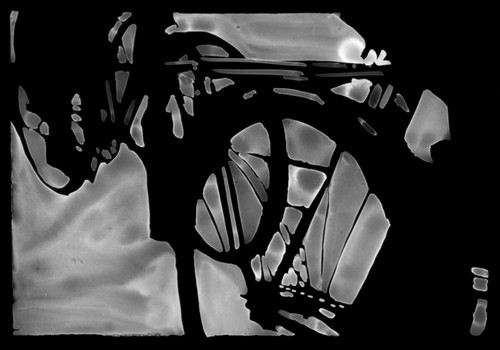 © Matt Saunders
Kuhle Wampe Bikes 107, 2010
Black and white photograph (enlargement from hand-drawn negative)
50 x 73 3/4 inches
MATT SAUNDERS
"People on Sunday"

May 9 – June 12, 2010
Opening Reception: Sunday, May 9, 4 – 6 pm
Gallery Hours: Tuesday through Saturday, 11 - 6

Harris Lieberman is pleased to announce People on Sunday, an exhibition by Berlinbased artist Matt Saunders. Saunders will exhibit a selection of new works related to his recent show at the Renaissance Society in Chicago. As he continues to build a private canon of interwoven images from film and historical sources, the artist
has expanded and deepened his border- crossing materiality, walking a line between still and moving image, between photographic and painted pictures. Central to the exhibition is a new three-channel video work, Passageworks. Animated fragments from a diverse list of sources are linked together in flickering, associative groupings.
Photographs here are ersatz paintings. Made without a camera, directly from painted "negatives" (which, in turn, consist of materials such as ink on mylar or oil on stretched linen), these pictures are infused with both immediacy and
mediated distance. They are portraits not just of their subjects, but of materials and their own making.
Matt Saunders recently had his first solo museum exhibition at the Renaissance Society, Chicago. His work has been featured in group exhibitions at the Deutsche Guggenheim, Berlin,the San Francisco Museum of Modern Art, and the University of Michigan Museum of Art. He received his MFA from Yale University in 2002.