Nancy Holt
08 Jun - 25 Aug 2012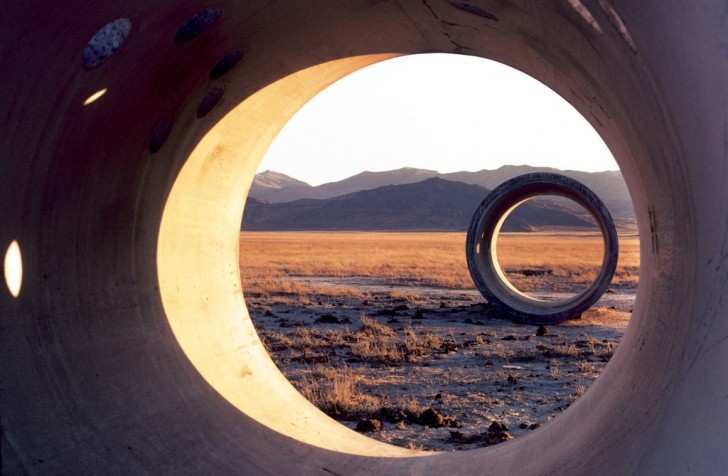 Nancy Holt
Sun Tunnels (detail), 1973-76. Great Basin Desert, Utah at sunrise
© Nancy Holt/ DACS, London/VAGA, New York 2012
NANCY HOLT
Photoworks
8 June - 25 August 2012

Haunch of Venison presents the first UK solo exhibition of American artist Nancy Holt

Nancy Holt is one of the leading artists of her generation and a pioneer in site-specific art and film and video work. She is one of a group of important international artists who initiated the Land art movement in the late 1960s. This exhibition will include over one hundred photographs from 1967 onwards, many seen for the first time in public.

Early Land artists, such as Michael Heizer, Richard Long, Walter de Maria and Robert Smithson, made revolutionarysteps when they began to work outside of the studio and gallery and instead physically made work in the landscape. The movement was, in part, a rejection of the materialistic modern world and an exploration of our human relationship with the continuously shifting forces of nature. For some of the artists, ecological issues and concerns about the destruction of natural environments are relevant factors. Nancy Holt was a key member of this group of artists.

For more than four decades, Nancy Holt has created an extensive body of work comprised of audiotapes, videos,photographs, site-specific installations, artist's books and major sculpture commissions around the world: most famously the Sun Tunnels, four large concrete tunnels, 18ft long and 9ft in diameter, based in the Utah desert in the US. The tunnels are aligned in pairs along an axis of the rising and setting sun on a summer or winter solstice; they act as viewing devices for the sky, the surrounding landscape and each other. Holt's primary aesthetic and social interests converge in this work: they reflect her determination to 'connect people with the planet earth', to bring 'the sky down to earth' and to render the vast spaces of the desert 'back down to human scale'. Her work draws attention to the cyclical time of the universe, the daily axial rotation of the Earth and its annual orbit around the sun.

The key themes throughout all her projects are memory, perception, time and space. She uses the natural environment as both medium and subject. Photography has always played a central role within her work, both as a way of engaging with the landscape and as a way of documenting site-specific projects.

This exhibition includes major photographic projects, including early work such as Concrete Visions, 1967; an important project made on Dartmoor while visiting the UK with her husband the late Robert Smithson over forty years ago, Trail Markers, 1969; a series of photographs of dilapidated graves in the American west, Western Graveyards; and photographs by the artist of her most famous work, Sun Tunnels, 1973 – 76 among others.