Erich Salomon
12 Nov 2008 - 25 Jan 2009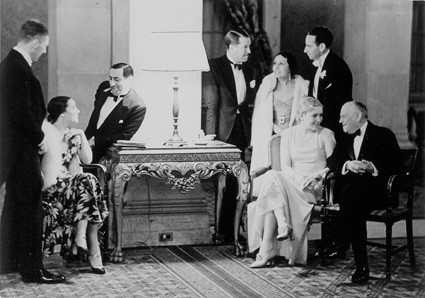 Erich Salomon
Réunion de stars du cinéma
À gauche de la console : Carmen Del Rio et Ernst Lubitsch ; à droite : Maurice Chevalier, Yvonne Vallée [sa femme], Paul Kohner [producteur], Vilma Banky et Carl Laemmle. Hollywood, 1930.
Archives Erich Salomon / Berlinische Galerie, Landesmuseum für Moderne Kunst, Fotografie und Architektur, © Bildarchiv Preußisher Kulturbesitz
ERICH SALOMON
"The King of the Indiscreet", 1928–1938

from 12 November 2008 until 25 January 2009

Erich Salomon (born 1886), whose career and tragic destiny are intimately bound up with the political and media history of the interwar period, was certainly one of the first reporters to enter the hitherto impenetrable world of power and to reveal the private lives of celebrities to the general public. His work thus marked the beginning of a new era in photojournalism. He was the precursor of what, many years later, would become the "paparazzi method." However, while Salomon's procedures (unauthorised infiltration of protected spaces, "hunting his prey" and use of ultra-sophisticated equipment) are comparable with those of the modern "celebrity hunters," his skill, ethics and, above all, his ambitions, not to mention the context in which he worked, set him very much apart from today's people press.
Nothing in Erich Salomon's background pointed to a career in photography. Born into a rich Berlin banking family, he studied zoology and architecture and went on to gain a doctorate in law. However, the rampant inflation after the Great War forced him to find a job. He became a photojournalist in 1928, at the age of 42, and had soon developed methods that enable him to discreetly photograph court hearings. Within three years the exploits of this brilliant autodidact had made him one of Europe's most famous photographers.
With this project, the Jeu de Paume is inaugurating a cycle of three exhibitions at the Hôtel de Sully on the subject of European photography between the wars (already touched upon in the current Lee Miller retrospective at the Concorde site). The series covers three main areas: German photojournalism, as represented by Erich Salomon, avant-garde photography in Paris from 1920 to 1940, in the Christian Bouqueret collection, and, finally, war photography, through the work of Augustí Centelles during the Spanish Civil War.

This exhibition has been organized by the Berlinische Galerie, Berlin,
and the Jeu de Paume, Paris,

with support from Olympus
in partnership with Arte, De l'air, evene.fr, Le Monde 2 et RFI.