Kim Levin
17 Oct 2008 - 01 Feb 2009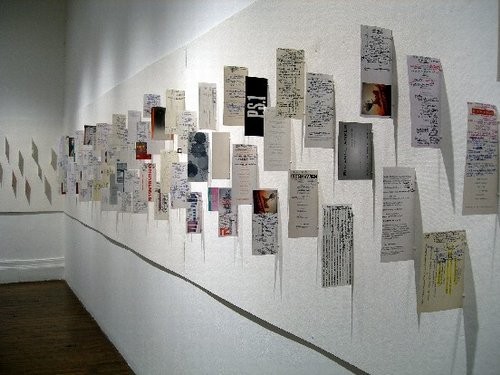 © Kim Levin
Notes and Itineraries.
Courtesy Ronald Feldman Fine Arts, New York. In cooperation with John Salvest
KIM LEVIN
"Notes and Itineraries 1975-2004"

17.10.2008 - 01.02.2009

For decades, the New York-based art critic legend, Kim Levin, has made notes about her visits to art exhibitions. She has also prepared route plans for her weekly gallery and museum visits. In this way, she has been able to navigate New York's myriad art offerings and arrange what she has seen into a practicable archive. Artist John Salvest was inspired by this "compulsive and systematic" documentation and compiled Levin's notes and route maps, written on press releases and invitations, into an exhibition called Kim Levin: Notes and Itineraries 1975-2004. The exhibition is on display in Kiasma's Kontti gallery from 17 October to 1 February 2009.
The exhibition takes a look at the working methods of a scrupulous art critic, systematic information collection and organisation, and the tools that assist the memory. For Levin, these tools summarise her reactions to, thoughts about and moods inspired by art, all recorded, for example, in the margin of an invitation using different colours and markings, as compact comments or drawings. Later, these markings are used to remember her ideas, tell about them to others and transform them into reviews and recommendations.
The contemporary observations by the influential critic also shed light on the establishment process of art history, which is based on choices: what museums, galleries and artists are included in the critic's journey, and what exhibition locations are considered significant over the course of time. As a compilation, Kim Levin's notes take a unique glance at the exhibition history of the world's most important centre of contemporary art, spanning a period of almost 30 years. They document the rise of new artists, galleries and trends - and the fall of others - the different stages of the art scene in New York, and the changes in the emphasis of contemporary art. The exhibition provides a background for the Full House exhibition, a collection of American minimalism, opening at the same time.
Kim Levin is a renowned New York-based art critic and curator who has regularly contributed to The Village Voice magazine and several international publications. From 1996-2002, she acted as President of the International Association of Art Critics and, over the course of her career, has received many journalism awards.
John Salvest is an Arkansas-based artist whose artefact and installation works often deal with accumulation and heaping. Currently, he is professor of sculpture at Arkansas State University.