Max Ernst
13 Mar - 26 Aug 2012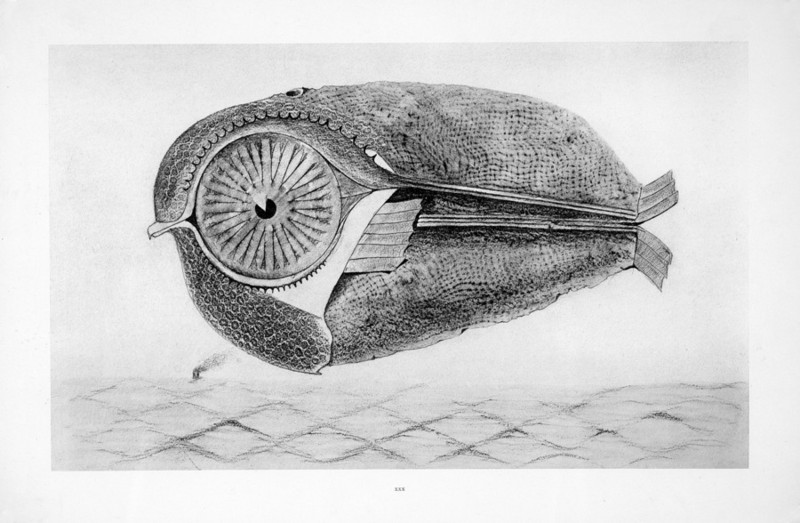 Max Ernst, les éclairs au-dessous de quatorze ans (Blitze unter 14 Jahren), 1926. Aus der Serie Histoire naturelle, Kunstmuseum Bonn
CLAM TREE, WOODEN BIRD AND BIG-EYED FISH
Max Ernst for children and adolescents
13 March - 26 August 2012

In 1925, Max Ernst for the first time laid paper on the boards of a wooden floor and rubbed their surface structure onto it with the help of a pencil. The patterns and forms that thus became visible turned into independent and unique landscapes, objects and creatures that had to be found and, if necessary, highlighted with a pencil. This is how Max Ernst developed a technique called "frottage", which he would often make use of later on and also adapt to oil painting.

The exhibition's focus lies on the graphic series "Histoire Naturelle" ("Natural History"), which Max Ernst reproduced photomechanically and published in 1926. The series consists of 34 frottages and shows the history of the origin of our earth by introducing us to a mysterious world of water, light, earth and air inhabited by unusual plants, fantastic animals as well as human beings.

In the museum's exhibition space the animals in Max Ernst's "Natural History" meet stuffed birds and fish from the collection of the Museum Alexander Koenig, complemented by five bronze reliefs in the shape of different animals and human beings from the Max Ernst Museum Brühl des LVR. The exhibition space is hence transformed into a room full of nature, a laboratory for the eyes, and, above all, a workshop in which children and adolescents cannot only learn about the technique of the frottage, but also try it out themselves.

The exhibition will be accompanied by a Werkbuch with images and essays on Max Ernst as well as tips for experimenting at home.

In cooperation with the Max Ernst Museum Brühl des LVR

We would like to thank the Verein der Freunde des Kunstmuseum Bonn e.V. and the Zoologisches Forschungszentrum Alexander Koenig for their support.