MCA DNA: Chicago Conceptual Abstraction, 1986–1995
18 May - 29 Sep 2013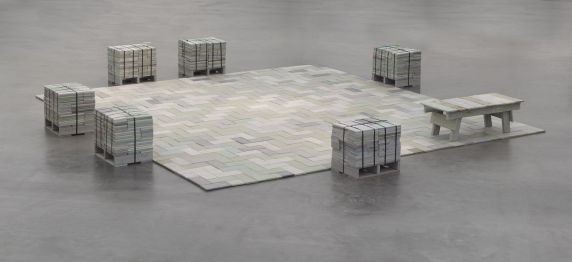 Dan Peterman
Ground Cover, 1995
Post-consumer recycled plastic
11 parts, each: 22 x 16 1/2 x 20 in. (55.9 x 41.9 x 50.8 cm)
Collection Museum of Contemporary Art Chicago, gift of the Susan and Lewis Manilow Collection of Chicago Artists, 2006.27
© 1995 Dan Peterman
Photo: Nathan Keay, © MCA Chicago
MCA DNA: CHICAGO CONCEPTUAL ABSTRACTION, 1986–1995
18 May – 29 September 2013

While historically Chicago art making has been strongly figural and representational, the Minimalism and conceptual art movements of the 1960s had a definite impact on many Chicago-based artists who emerged in the late 1980s and early 1990s. The early 1980s marked a sea change in the Chicago art scene as the city's art schools began attracting students and working artists from around the nation who had absorbed the lessons of the previous decades' avant-garde and who were influenced by the theoretical writings of historians, philosophers, environmentalists, and literary critics. The following years saw a rise in the number of Chicago-based artists whose works were in the lineage of or consciously referred to conceptual art. The pioneering exhibition program at artist-run space Randolph Street Gallery (founded 1979) allowed many of the artists we now consider Chicago's finest, such as Jeanne Dunning, Iñigo Manglano-Ovalle, Dan Peterman, and Tony Tasset, both to exchange ideas and to position their works in a broader social and cultural context. Galleries including Feigen Inc. and Feature showed work by these young artists alongside that of emerging national figures such as Charles Ray and Mike Kelley.

More than a dozen artists working in painting, photography, sculpture, and installation are represented in this exhibition, and their modes of abstraction are likewise diverse. Sculptors Richard Rezac and Tony Tasset use simple forms that emphasize the expressive qualities inherent in their industrial materials, while Dan Peterman, a pioneer in exploring environmental and sustainability issues, uses recycled materials to focus his conceptual and aesthetic concerns. Painters Julia Fish and Mitchell Kane abstract nature to an almost unrecognizable degree to create poetic canvases. Using photography, Jeanne Dunning focuses on the landscape of the body, and Iñigo Manglano-Ovalle maps the DNA of twins, both resulting in abstract portraits. Anne Wilson harvested human hair to create her delicate yet disturbing Minimalist composition, while Gregory Green fashions a Minimalist grid out of saw blades in his kinetic installation. All of these artists employ the undeniable beauty of their materials and abstract compositions to convey complex ideas about art history, social issues, and identity.

MCA DNA: Chicago Conceptual Abstraction is part of an ongoing exhibition series featuring iconic works from the MCA Collection and is organized by Lynne Warren, Curator at the Museum of Contemporary Art Chicago.