Hiroshi Sugimoto
28 Oct - 23 Dec 2011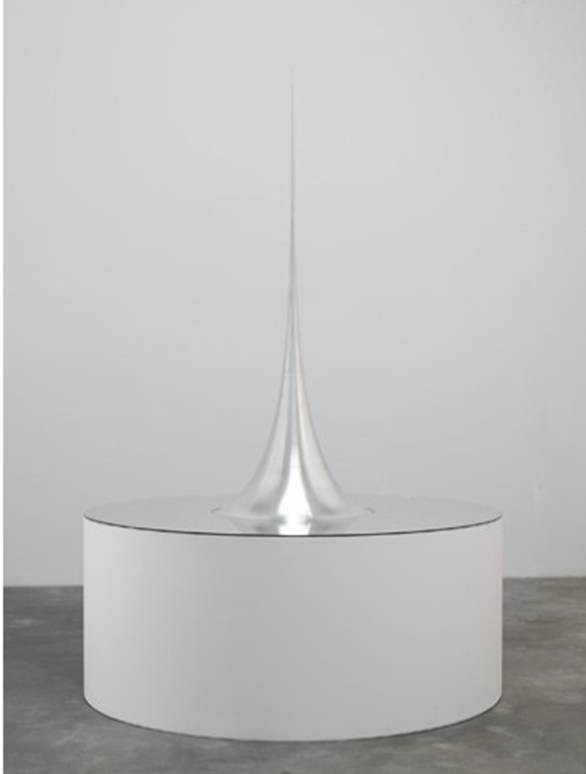 © Hiroshi Sugimoto
Mathematical Model 009 Surface of revolution with constant negative curvature, 2006
aluminum and glass
model: 103-1/4" (262.2 cm); base diameter: 27-9/16" (70 cm)
Surface of the Third Order

The Pace Gallery is pleased to present an exhibition of new objects and sculptures by Hiroshi Sugimoto. Hiroshi Sugimoto: Surface of the Third Order will be on view at 510 West 25th Street from October 28 through December 23, 2011, with a public reception on October 27 from 6 to 8 p.m. The exhibition will be accompanied by a catalogue with texts by the artist.

Hiroshi Sugimoto: Surface of the Third Order will feature two bodies of conceptual three-dimensional work: intimately-sized crystal pagodas inlaid with photographs and large-scale aluminum sculptures based on mathematical functions. Both series explore the concepts of zero and infinity, ideas that have long informed Sugimoto's photographic work.

Made from optical-quality glass, each Five-Element Pagoda is based on the form of a thirteenth-century Japanese Buddhist stupa, a traditional reliquary used to hold the ashes of Buddha. The geometric forms of the pagoda's layers represent the elements of nature: at the base, earth as a cube, emphasizing materiality; water as a sphere of clarity; fire as a pyramid, imitating pointed flames; wind as a hemisphere, expressing its power to cut through whole matter; and emptiness represented as a droplet-like shape that disappears into a perfect globe. Enshrined within the sphere of each pagoda is a unique photograph from Sugimoto's iconic Seascapes series (begun in 1980). The seascapes represent bodies of water from the Arctic Ocean to the Mediterranean Sea, each photographed in the same stark composition of a sharp horizon line dividing the sky and sea. Stacked as part of the traditional pagoda, the miniature seascape amplifies the representation of the layered elements and assumes new theological and cosmological significance. "With deity or Buddha both vanished from this day and age, in what can I take refuge?" asks Sugimoto. "Just perhaps the only object of devotion I have left is the origin of my consciousness, the sea."

"Sugimoto's seascapes are not photographs of the sea; rather, they are images that arise out of the murky depths of the past, time machines that are capable of extending our vision back beyond our own existence, images that focus on the sea with the very substances—water and air—that would ultimately give rise to life itself," wrote Hirshhorn curator Kerry Brougher on the occasion of Sugimoto's 2005 U.S. retrospective. "Through the nearly abstract, almost sacred geometric composition and the repetition of this yin-yang relationship from image to image, from ocean to ocean around the world, the sea is returned to a kind of primordial state untouched by humankind."

Concurrently with Surface of the Third Order, Pace/MacGill Gallery, located at 32 East 57th Street in New York, will present an exhibition of photographs of Lake Superior from Sugimoto's Seascapes series, some of which have never before been on public view.

Surface of the Third Order will also include four solid aluminum sculptures, ranging from nine to fifteen feet tall, each based on mathematical formulas, presenting physical and visual representations of trigonometric functions. The aluminum sculptures evolved from Sugimoto's interest in mathematical models, which he has photographed since 2002. Drawn to the objects' purity of form and also inspired by Man Ray's interest in photographing mathematical models, Sugimoto first photographed nineteenth-century plaster examples for his Conceptual Forms series. During the process, he was struck by the softness and fragility of the vintage models – many had lost pieces or no longer possessed the sharpness that they were meant to represent. Sugimoto sought to extend the limits of these mathematical models using cutting-edge technology, searching out the highest-level precision metalworking team in Japan. For Conceptual Form 009, a model of the equation for a surface containing a single point extended to infinity, Sugimoto succeeded in creating an infinity point with a mere one millimeter diameter, the minimum width before the material itself becomes structurally unstable. In 2006 Sugimoto's first three mathematical models were exhibited at the Atelier Brancusi beside the Centre Pompidou.

New works from the same series of objects will be exhibited simultaneously at the Chinati Foundation in Marfa, Texas, where twenty-four pagodas and a mathematical model will be on view from October 2011 through July 2012. Sugimoto's crystal pagodas were also included in the Yokohama Triennale, presented in the summer of 2011 in Japan. A mathematical sculpture by Hiroshi Sugimoto will be featured in the exhibition Mathematics: A Beautiful Elsewhere at the Fondation Cartier pour l'art contemporain in Paris from October 21, 2011 through February 28, 2012.

Hiroshi Sugimoto (born Tokyo, 1948) has lived and worked in New York City since 1974. Sugimoto's interest in art began early. Influenced by Minimalism and Conceptual Art, he also has a lifelong connection to the work and philosophy of Marcel Duchamp. Central to Sugimoto's work is the idea that photography is a time machine, a method of preserving and picturing memory and time. This theme provides the defining principle for many of his ongoing series, including Dioramas (1976– ), Theaters (1978– ), and Seascapes (1980– ). He places extraordinary value on the technical aspects of photography, printing his work with meticulous attention and a keen understanding of the nuances of silver-print making and its potential for tonal richness in his seemingly infinite palette of blacks, whites, and grays. His recent projects include an architectural commission at Naoshima Contemporary Art Center in Japan, for which Sugimoto designed and built a Shinto shrine.

In 2005, the Japan Society, New York, and Arthur M. Sackler Gallery, Washington, D.C., organized a U.S. and Canadian tour of Hiroshi Sugimoto: History of History, an exhibition curated by Sugimoto of his own personal collection of antiquities. In 2008, The Kanazawa 21st Century Museum of Contemporary Art and the National Museum of Art in Japan presented an expanded version of History of History. The Hirshhorn Museum and Sculpture Garden, Washington, D.C., and the Mori Art Museum, Tokyo, are joint organizers of a 2005 Sugimoto U.S. retrospective tour. A European version of the retrospective was organized by K20 Kunstsammlung Nordrhein-Westfalen in 2007; subsequent venues included the Museum der Moderne Mönchsberg and Neue Nationalgalerie, Berlin. In 2010 Hatje Cantz released a newly expanded edition of the artist's self-titled retrospective catalogue featuring an essay by Pia Müller-Tamm and including two new bodies of work. His work is currently featured in the exhibition TRA: The Edge of Becoming at the Museo Fortuny in Venice.

Sugimoto has had solo exhibitions at the Metropolitan Museum of Art, New York; MOCA, Los Angeles; Contemporary Arts Museum, Houston; MCA Chicago; and Hara Museum of Contemporary Art, Tokyo, among others. Most recently he was the subject of a year-long exhibition at Japan's Marugame Museum, as well as a major exhibition of new work at the National Gallery of Scotland in 2011.

Hiroshi Sugimoto has received fellowships from the Guggenheim Foundation and the National Endowment for the Arts and he is the recipient of honorary doctorates and awards including the Praemium Imperiale Award (2009, 2010), the Hasselblad Foundation International Award in Photography (2001), and the International Center of Photography, 15th Annual Infinity Award for Art, New York (1999).

His work is in numerous public collections including The Metropolitan Museum of Art, New York; Museum of Contemporary Art, Tokyo; The National Gallery, London; The National Museum of Modern Art, Tokyo; Smithsonian Institute of Art, Washington, D.C., and Tate, London, among many others.

Surface of the Third Order is Sugimoto's second exhibition at Pace since he joined the gallery in 2010.