Stelios Faitakis
17 Sep - 17 Oct 2009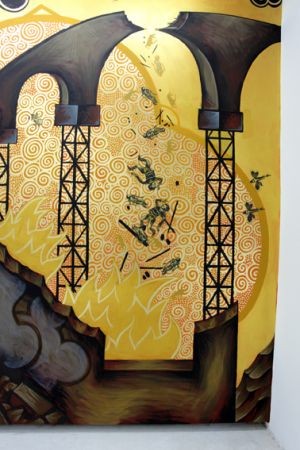 © Stelios Faitakis
" ....to a blessed land of new promise" instalation view detail at The Breeder, Athens
STELIOS FAITAKIS
"...to a blessed land of new promise"

Preview: Tuesday, September 17th, 2009, 8-10 pm
Duration: September 17th – October 17th 2009
Opening hours: Tuesday thru Friday 12-8 pm and Saturday 12-5 pm

The Breeder is pleased to announce the second solo show of artist Stelios Faitakis, opening on Thursday September 17th, 2009.

The work of Stelios Faitakis negotiates diverse styles and traditions, combining street art culture with Byzantine iconography, Cretan folk art, Mexican Muralism and Japanese art. Eastern traditions intermingle with Western culture in a unique artistic vision, where scenes from everyday life can be viewed through a plethora of metaphors and symbols. The invocation of religious conventions through the depiction of halos and extensive use of gold elevates his earthly figures to a divine status and moreover invests the scenes with a sense of eternality.

The dystopian future described in a series of surreal images evidences a political and social critique at work in Stelios Faitakis's oeuvre. Man's relationships with both his surroundings and his inner self are explored in a complex array of everyday scenes and exaggerations that at times conflate to depict extreme or even impossible situations. The works divulge a chaotic reference system at play, within which even the most apparently incongruous elements conspire to exist in a coherent 'reality'.

The art critic Andrea Gilbert comments on political art and Stelios Faitakis's work: "Political art, to be truly successful, must not only relate to the era and place of its creation but also transcend the topical, to speak a universal language, and to carry its impact into the future... art as a voice of dissent against normative societal values and as a means of deconstructing and undermining perceptions and systems, demonstrating that although art cannot change the world, it can certainly make people think...Stelios Faitakis conflates the anarchic gesture of street art, the socialist message of Mexican mural painting, and the devotional persuasion of Byzantine hagiography into a multivalent pictorial idiom that acknowledges the fundamental communicative power of the narrative image...creates a universal iconography that speaks to "The People" across time and culture."

Stelios Faitakis graduated from The Fine Arts School of Athens and now lives and works in Athens. In 2008 his first solo show was held at The Breeder. In 2007 he participated in the first Athens Biennial, "Destroy Athens", curated by Xenia Kalpaktsoglou, Augustine Zenakos and Poka-Yio with the large-scale mural, "Socrates drinks the conium", which received great attention. He has also participated in group shows such as "Anathena" (2006) at the DESTE foundation, curated by Marina Fokidi and Marina Gioti, and the "What remains is future" (2006) in Patra curated by Nadja Argyropoulou. Works by Stelios Faitakis have been recently presented in the show "Borderline Pleasure", curated by Lukas and Sebastian Baden at the Galerie Michael Janssen in Berlin.