Mariele Neudecker "Parhelion"
20 Jan - 03 Mar 2012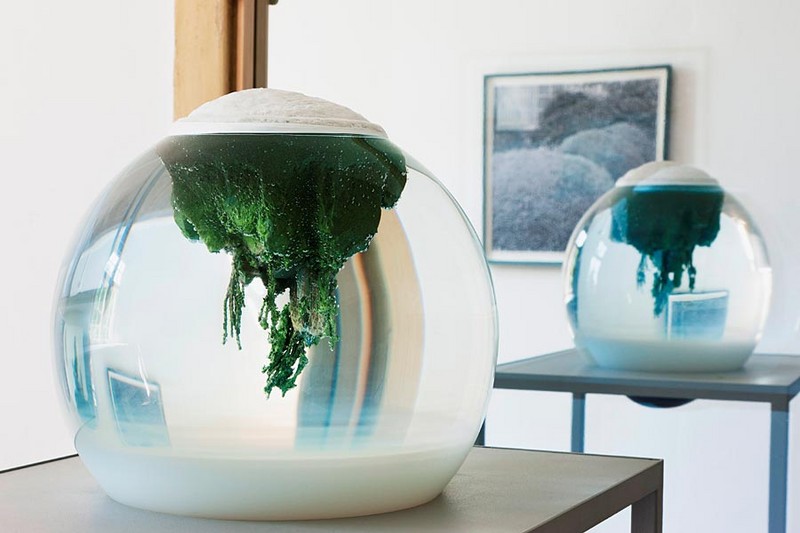 Mariele Neudecker
24 hours / 48 hours (1) + (2), 2011
2 metallstands, 2 glasbowls filled with water and salt GAC100, 2 landscapemodels, mixed media, fibre-glass
2 metallstands each 50 x 60 x 110 cm, 1 plexi-glass: 194,5 x 80,5 cm
Ed. 2
Exhibition view: Schloss Marquardt /Potsdam
Photo: Roland Horn
Thomas Rehbein Gallery is pleased to announce Mariele Neudecker's first solo exhibition in the gallery, a German artist (born 1965, Düsseldorf) who lives and works in Bristol, UK. Neudecker has recently been short-listed for the Fourth Plinth, Trafalgar Square, London and was prize-winner at the 11. Triennale Kleinplastik - Larger Than Life – Stranger Than Fiction, Fellbach, Germany (2010).

Mariele Neudecker uses a broad range of media including sculpture, drawing, installation, film and photography. Her practice investigates the formation and historical dissemination of cultural constructs around the world, focusing particularly on landscape representations within the Northern European Romantic tradition and today's notions of the Sublime.

"My work deals with ideas of perception and distortion of both: realities and fictions and tries to stay removed from clearly defined issues or narratives. Central to the work is the human interest and relationship to landscape. [...] My process relies on reproductions in books, first and second hand experiences, metaphors and myths, and images: found or taken myself. [...] I want the viewers to think about the past, future and present perspectives as being in constant states of flux." (Mariele Neudecker)

Neudecker has shown widely internationally. In 2011 she took part in four international group exhibitions: Otherworldly: Artist Dioramas and Small Spectacles, MAD Museum, New York, USA, Screaming From The Mountain: Landscapes and Viewpoints, Sörelandets Kunstmuseum, Norway and Rohkunstbau-Power, Marquart Castle, Berlin, Germany also Belvedere. Warum ist Landschaft schön? Why is Landscape Beautiftul?, Arp Museum Bahnhof Rolandseck. Amongst other projects she is working towards a solo show (retrospective) at the Kunstmuseum Trondheim, Norway and will take part in the Ostseebiennale, Rügen, Germany, both for 2012.