Jan Albers
15 Mar - 26 Apr 2014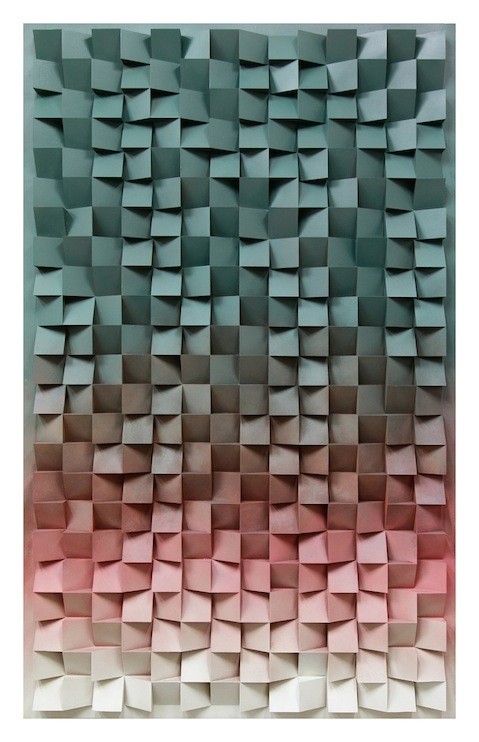 © Jan Albers
thrEEhundrEdtwEntytwOupanddOwn, 2014
spray paint on polystyrene & wood
94.48 x 59.05 x 5.11 in, 240 x 150 x 13 cm
JAN ALBERS
Henry Hurt vs. Holly Heal
15 March - 26 April 2014

1301PE is pleased to announce its first solo exhibition with Düsseldorf-based artist Jan Albers. Albers utilizes a variety of primarily industrial materials and combines these elements into what can be described as both pictures and objects. Presented in this exhibition will be a new oeuvre of chainsaw massacres, wedge pieces, crumbled bicycles and apocalyptic landscapes.

"Even if the attitude is that painting is over, I still keep on working on the idea of doing something new, by avoiding oil paint on canvas." – Jan Albers

Henry Hurt vs. Holly Heal is about the opposed ingredients that one needs for stimulation, hurting and healing, destruction and fixing, and chaos and order. All these contradicting binaries make one feel alive. Albers' "paintings" oscillate between sites of destruction and repair.

Jan Albers was born in Wuppertal, Germany and grew up in Namibia. He lives and works in Düsseldorf, Germany. Albers was the recipient of the 2013 Dahlmann Prize in conjunction with his solo exhibition at the Leopold-Hoesch-Musuem in Düren, Germany.

Other recent solo exhibitions include Up & Down, Kunsthalle Giessen, Germany; parcOurs mOrtale, Langen Foundation, Neuss, Germany; and Kollekte, two person show with Jens Ullrich, cur. Stefanie Kreuzer, Museum Morsborich, Leverkusen, Germany. Selected group exhibitions include Transfer Korea-NRW, Seoul, South Korea; The end of the line: attitudes in drawing, organized by Hayward Touring, UK; Optical & Visionary Art since the 1960s, San Antonio Museum of Art, San Antonio, TX and Memorial Gallery at the University of Rochester, Rochester, NY; and Non-stop beautiful ladies, Marfa, TX. Jan Albers was also given the Kaiserring Stipened Award in 2007 from the Museum Moenchehaus in Goslar, Germany.