11TH ADELAIDE BIENNIAL OF AUSTRALIAN ART 201
27 Feb - 02 May 2010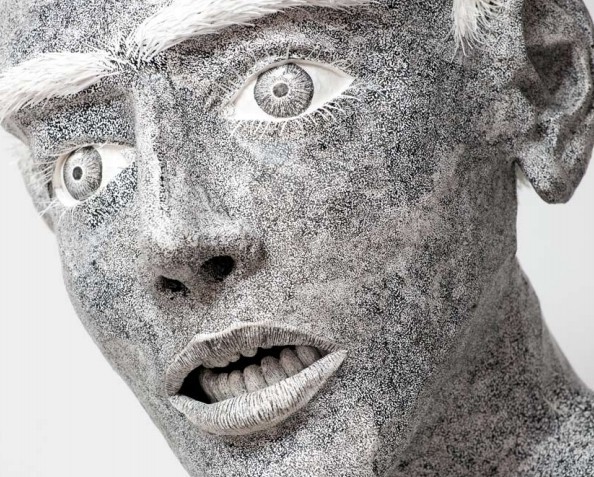 © James Morrison
Worm blood dripping (detail) 2009–10
papier mache and ink
198 x 82 cm
Courtesy the Artist and Darren Knight Gallery, Sydney. Photo: Simon Hewson.
11TH ADELAIDE BIENNIAL OF AUSTRALIAN ART 2010
Before & After Science
27 February – 2 May 2010

Curators: Sarah Tutton and Charlotte Day

Hany Armanious (NSW)
Ben Armstrong (VIC)
John Barbour (SA)
Matthew Bradley (SA)
Mikala Dwyer (NSW)
Diena Georgetti (Qld)
Simryn Gill (NSW)
Simon Yates (NSW)
Newell Harry (NSW)
Nicholas Mangan (VIC)
Silvana & Gabriella Mangano (VIC)
Martumili Artists: [Jakayu Biljabu, Yikartu Bumba, Nyanjilpayi (Nancy) Chapman, Mulyatingki Marney,
Muntararr (Rosie) Williams, Mayiwalka (May) Chapman, Reena Rogers, Doreen Chapman, Donna Loxton,
Beatrice Simpson, Ronelle Simpson, Linda James (WA)]
James Morrison (NSW)
Callum Morton (VIC)
Doreen Reid Nakamarra (WA)
Michelle Nikou (SA)
David Noonan (VIC)
Stuart Ringholt (VIC)
Sandra Selig (QLD)
Christian Thompson (VIC)
Louise Weaver (VIC)
Justene Williams (NSW)

The flagship visual arts event of the Adelaide Festival of Arts, the 2010 Adelaide Biennial of Australian Art: Before & After Science assembles 22 of the nation's most innovative and exciting contemporary artists and artist groups, to present a wondrous and unsettling vision of our world, where mystery and the unknowable wrestle with order and reason.

Inspired by the concepts of alchemy and transformation, independent Melbourne curators Sarah Tutton and Charlotte Day have selected cutting-edge new works which, through their use of media, theme or narrative, change the humble into the precious, the old into new, and the mundane into the magical.

Installation and sculpture using traditional and non-traditional materials feature strongly alongside collage, film and painting to create an extraordinary exhibition experience. Many works are being displayed for the first time in this exhibition and all have been created since the 2008 Adelaide Festival.

The 2010 Adelaide Biennial of Australian Art is presented by the Art Gallery of South Australia and the Adelaide Festival with generous assistance from Australia Council for the Arts. It is also supported by the Gallery's DEPARTURE program for people in their 20s and 30s.

About the Adelaide Biennial
Established in 1990 and staged every two years by the Art Gallery of South Australia, this major exhibition is the flagship visual arts event of the Adelaide Festival of Arts. It showcases up-to-the-minute works by established and emerging contemporary Australian artists.
The 2010 Adelaide Biennial of Australian Art, entitled Before and After Science, brings together a crosssection of works by twenty-two artists and artist groups, works which investigate or reflect various themes associated with thinking about art and science – the connections, the boundaries, the possibilities. Many of these works deal with the unknown, or the mysterious. For some artists in this exhibition, encountering, or pushing at the boundaries that might exist between the disciplines of art and science reveals new directions, and opens up new possibilities in creative endeavour. Other works look back to artistic and cultural traditions.
Biographical information about the artists, including exhibitions and prizes, can be found in the exhibition catalogue Before and After Science by curators Charlotte Day and Sarah Tutton (Art Gallery of South Australia 2010).

About the Curators
Charlotte Day is Associate Curator, Australian Centre for Contemporary Art, Melbourne, and was curator of Victoria's TarraWarra Biennial 2008. She was curator of Ricky Swallow's This Time Another Year at the Venice Bienniale 2005 and Callum Morton's Valhalla at the Venice Bienniale 2007.
Sarah Tutton is Melbourne Editor for Art & Australia and Pacific Editor for ArtAsiaPacific Almanac 2009. She was the Australian coordinator of Icons of the Desert: Early Aboriginal Paintings from Papunya at the Herbert F. Johnson Museum, Cornell University, New York, which toured the United States in 2009.