Nothing to declare? – Weltkarten der Kunst nach '89
01 Feb - 26 May 2013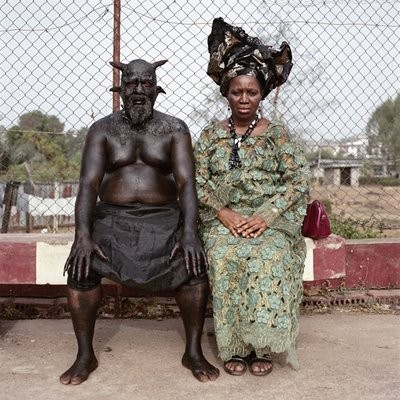 Pieter Hugo, Nollywood. Chris Nkulo and Patience Umeh. Enugu, Nigeria, 2008
© Pieter Hugo. Courtesy Stevenson, Kapstadt/Johannesburg und Yossi Milo, New York
Nothing to declare? – Weltkarten der Kunst nach '89

Das dokumentarisch angelegte Ausstellungsprojekt widmet sich den globalen Veränderungsprozessen in der Kunstwelt seit 1989. Mit diesem Thema stellt sich Berlin als Kunstmetropole in den Kontext einer Neuordnung der Kunstszenen weltweit. Der universale Geltungsanspruch der westlichen Moderne lässt sich mit dem Ende von Kolonialismus und Imperialismus nicht mehr aufrecht erhalten. Die politischen Befreiungsbewegungen sowie die kulturtheoretische Emanzipation aus der Deutungshoheit des Westens haben zu einer international vernetzten Kunstszene, aber auch zu einer Neubestimmung künstlerischer Praxis und ästhetischer Positionen geführt.

Diesen Entwicklungen hat sich das Forschungsprojekt Global Art and the Museum (GAM) am ZKM gewidmet und mit der Ausstellung "The Global Contemporary" in Karlsruhe Zwischenbilanz gezogen. In Kooperation mit der Akademie der Künste wird dieses Projekt nun in Berlin weitergeführt mit ausgewählten künstlerischen Arbeiten und Filmen von Halil Altındere, Pieter Hugo, Christian Jankowski, Rasheed Araeen u. a.