Ry Rocklen & Derek Boshier
24 Apr - 30 May 2015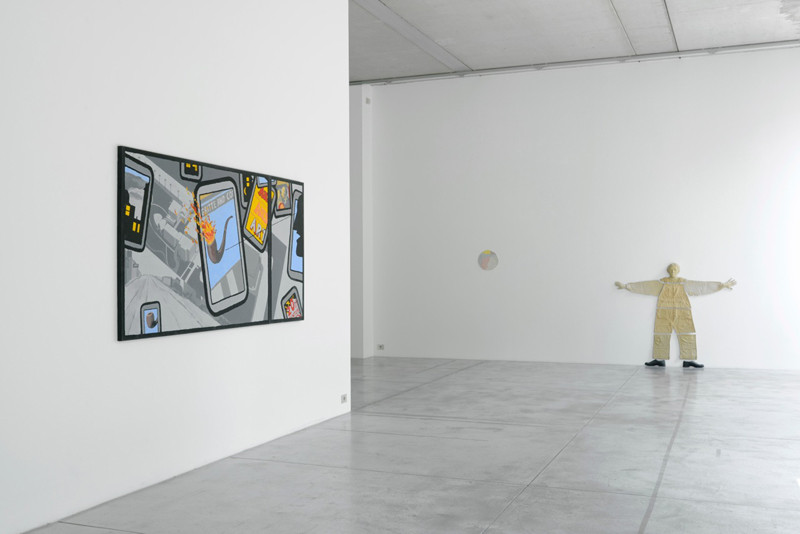 Exhibition view
RY ROCKLEN & DEREK BOSHIER
Condominium pancake
24 April - 30 May 2015

Albert Baronian is pleased to present Condominium Pancake, a duo show bringing together the work of Ry Rocklen and Derek Boshier.

"Derek Boshier and Ry Rocklen siphon their plane closed reality through a pancake lens. The chunky flattening of matter in paint and clay. A fracturing of the picture plane from the Sunday times. A democratized surface, crudely faceted and alluring. "
R.R. & D.B., 2015

Rather than sculpt or paint, Ry Rocklen is an « assembler ». Through the preservation of familiar personal objects the artist simultaneously aggrandizes the banal appointments of his daily life while indexing and archiving the uniform touchstones of our shared material presence. Constant in Rocklen's practice is the paradoxical relationship between the familiar objects he selects and their distinguished treatments. Their subsequent ascension to dignity through porcelain casting, bronze plating, hand tiling and other mediums prive to timelessness most often transform easily destructed objects into durable monuments. In doing so, the treatments elevate the objects on display as well as evade particular, personal, distinctions. In casting the entirety of his own wardrobe, Rocklen has altered what was once his favorite collared shirt into the archetype of every three-buttoned polo. What remains is the personal referent without the personal affect.
Consistently personal to Rocklen, the objects selected remain universal vehicles incapable of being defined as simply the artist's mementos. Instead they operate as touchstones indexing our shared ubiquity in search of personal narrative. Lost in a sea of individuality all signs of the individual are awash in a monument to our shared banality.

Derek Boshier juxtaposes contrasting styles within his paintings, but he favors topical subject matter such as the space race, political events and the Americanization of Europe. During the 1970s he experimented with different media, producing photographs, films, collages, constructions, books, posters and record covers.
The diversity of this output was unified by his response to contemporary events, his insistence on the social context, his unmasking of the sinister aspects of advertising and his promotion of radical politics.
Boshier returned to painting in 1979 and began introducing poignant, sometimes comical, figures into his canvases. Often garishly colored and rough in execution, these painted observations of human behavior earned him a new and devoted following.
The paintings on show here, all dated between 2011 and 2014, are part of a series made over the last decade that incorporates laptops, Smartphone and tablets. The advent of this technology was not so much a revelation for Boshier but an affirmation of the approach he had taken his whole career. His pictures had long been populated by documents and screens – televisions, newspapers, books, postcards and letters – and by the kinetic energy of dissonant images lapping over each other. The method of filming on his iPad that he has developed in recent years relates directly to his tautly edited 16mm films from the 1970s such as Reel (1973). At the gallery Boshier is presenting three new video works from 2014.

Born in 1978 in Los Angeles, Ry Rocklen lives and works in Los Angeles. He received his MFA from the University of Southern California, Los Angeles and his BFA from the University of California, Los Angeles. His recent solo exhibitions include A Living at Praz Delavallade, Paris (2014), at UNTITLED, New York (2014), Local Color at Lamar Dodd School of Art University of Georgia, Athens (US) and the installation Trophy Modern for Absolut Bureau, Miami Beach. His work has been recently been included in the following group exhibitions: LAX Art Gala at Greystone Mansion, Los Angeles, please enter at Franklin Parrasch Gallery, New York, Objective at Thomas Solomon gallery, Los Angeles and Stand-in at Albert Baronian, Brussels. Next to this, he has showed at several institutions that include the Hammer Museum in Los Angeles, MoMA PS1 in New York and the Whitney Museum (for the 2008 Whitney Biennial) in New York.

Born in 1937 in Portsmouth, Derek Boshier lives and works in Los Angeles. Boshier graduated from the Royal College of Art, London in 1962, where along with David Hockney, Allen Jones, and Peter Phillips, he was one of the students associated with Pop Art. Also in 1962, he appeared in Ken Russell's 'Pop Goes the Easel' with Peter Blake, Pauline Boty, and Peter Phillips. Notable solo exhibitions include: Robert Fraser Gallery, London; Galerie Bichofsberger, Zurich; 'Derek Boshier Documentation and Work', which toured institutions in Great Britain in 1972; Hayward Gallery, London; Whitechapel Art Gallery, London; the Institute of Contemporary Art, London; Marconi Gallery, Milan; Palace of Culture, Warsaw; Museum of Contemporary Arts, Lodz, Poland; Contemporary Arts Museum, Houston, Texas; and most recently at the National Portrait Gallery, London in 2014. His work is held in notable collections worldwide, including The Collection of Her Majesty The Queen, Windsor Castle, England; The Tate Gallery of British Art, London; The Victoria and Albert Museum, London; National Gallery of Scotland, Edinburgh; New Orleans Museum of Art, Louisiana; The Dallas Museum of Art, Texas; The Menil Collection, Houston, Texas; Yale Centre of British Art, Connecticut; and The Museum of Modern Art, New York.
He recently had solo exhibitions at Tanya Leighton Gallery, Berlin and Night Gallery, Los Angeles. His work was presented in recent group exhibitions at institutions such as the Barbican Art Gallery, London, Victoria and Albert Museum, London, Tate Gallery, Liverpool and Schirn Kunsthalle, Frankfurt.