Hannah Wilke
10 Jun - 09 Jul 2011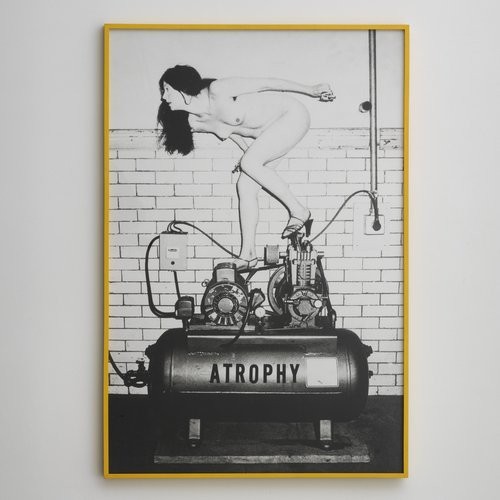 Hannah Wilke, Atrophy, 1978-1984
Vintage black and white photograph with yellow painted frame
152.4 x 101.6 cms / 60 x 40 ins
Courtesy Hannah Wilke Collection & Archive, Los Angeles
HANNAH WILKE
Selected Work From The '60s & '70s
10 June - 9 July, 2011

The first two decades of Hannah Wilke's practice coincided with one of the most explosive and experimental eras in the history of art. Embodying the radical embrace of multimedia expression, political engagement and fundamental questionings of form and material that characterised the American avant-garde in the age of the sexual revolution and feminist activism that flourished alongside the civil-rights and peace movements, Hannah Wilke's diverse creative output was manifest across sculpture, drawing, performance, film and photography. This exhibition includes both rarely seen and iconic works by Wilke from this period, which charts the emergence of the artist's distinctive aesthetic and attitude. Post-minimalism, second-wave feminism, abstract expressionism and appropriation art all collided in Wilke's work with a wry Duchampian humour and intelligence, forging one of the most unique practices in late twentieth-century art.

The central sculptural innovation of Wilke's early practice was the development of a formal language which centred on the folded gesture, a motif at once evocative of vaginal and labial imagery, and which afforded repeated opportunities to explore her interests in both the materiality of sculpture and the making of a feminist art. These gestures, which began with terracotta sculpture in the 1960s, recurred in a variety of guises, from small folded pieces of chewing gum applied to postcards as in Untitled (Fingers Crossed) (mid-1970s), to Baby Blue (1978), an installation of 36 unique painted ceramics placed on a board on the floor which exemplifies Wilke's floor based sculptural practice. Another important work from the 1970s is Model for a Room Sculpture (1978), a proposition developed for an exhibition entitled Thirteen Galleries, held at the High Museum in Atlanta, GA. Wilke was invited to respond, alongside such artists as Vito Acconci, Chris Burden, Gordon Matta-Clark, Philip Guston and Sol Lewitt, to the following proposal: 'The space has pristine white walls, a wood floor, two doors (viewing spaces), and two electrical outlets. The dimensions of the room are 18 1⁄2 x 20 1⁄2 x 11 1⁄2 inches..." Wilke's answer, a variation of her Elective Affinities series, was to offer a suggestion for large-scale ceramic folded sculptures which on a human scale would have offered a spectacular female rejoinder to the industrial bombast of male abstract sculpture, but which when realised as a model persists in delicacy and intimacy.

The gendered critique of art's institutions that animated much of Wilke's practice was accompanied by a highly unconventional attitude to the boundaries between media and genres in art. Envisaging much of her work in terms of 'living sculpture', Wilke imagined and charted a space between object-based practice and performance, a tendency captured in much of her film and photography. Gestures (1974), her earliest video which is presented in the exhibition through a number of vintage photographs, is a wordless, thirty-five minute and black-and-white study of Wilke's face, as various expressions are shaped upon it by the artist's hands. Wilke's flesh is almost treated like clay here, a malleable material teeming with creative potential. Elsewhere, it is Wilke's entire body that assumes the status of sculptural object, most obviously in I Object: Memoirs of a Sugargiver (1977-78), a photographic diptych and Performalist Self-Portrait created with Richard Hamilton, overlain with typically punning text, that critiques Duchamp's Étant donnés and reveals Wilke's naked and vulnerable self. The wry Conceptual humour and language-play Wilke pursues in her performance, photography and film contrasts instructively with the delicate and raw beauty of her drawings of the 1960s, many of which drew on Wilke's signature gestural imagery but whose immediacy and emotional intensity often suggests a feminised abstract expressionist instinct. The diversity of Wilke's experimentation during the 1960s and 1970s is certainly one of its most notable features, yet in this variegated and proficient output there remains a unity of temperament that was by turns amusing, angry, intense and tender.

Hannah Wilke was born in New York in March 1940, and died in Houston, Texas, in January 1993. She trained at the Tyler School of Fine Art, Temple University, Philadelphia, and began exhibiting her work in 1961. Key solo museum exhibitions during her life included Hannah Wilke: Scarification Photographs and Videotapes at Fine Arts Gallery, University of California, Irvine in 1976, and Hannah Wilke: A Retrospective at the University of Missouri in 1989. Recent shows include WACK! Art and the Feminist Revolution MOCA, Los Angeles and PS1, New York curated by Connie Butler (2007) and Hannah Wilke: Gestures, at the Neuberger Museum of Art, New York (2008). In 2010, Prestel published a major monograph on Hannah Wilke by Nancy Princenthal and recent museum acquisitions include: Museum of Modern Art, New York; Tate, London; and The Centre Pompidou, Paris. Alison Jacques Gallery represents the Hannah Wilke Collection & Archive, Los Angeles, the majority of the artist's estate left by Wilke to her sister, niece, and nephews, who are dedicated to developing her legacy through exhibitions and publications.