Andrea Zittel
06 Feb - 07 Mar 2009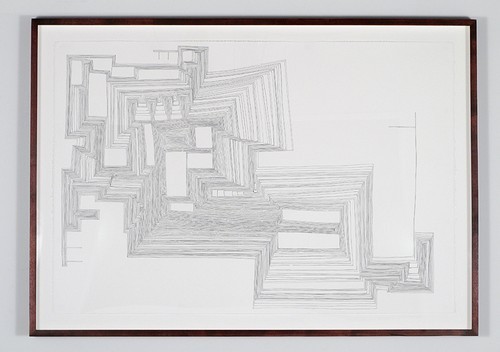 © Andrea Zittel
Forward Motion with 90 ̊ and 180 ̊ Rotations, 2009
Staedtler pigment on Rives BFK paper
Paper size: 30 x 44 inches (76.2 x 111.8 cm)
Frame size: 35 x 49 1/8 x 2 3/4 inches
(88.9 x 124.8 x 7 cm)
ANDREA ZITTEL
"single strand, forward motion"

February 6 - March 7, 2009
Main Gallery

Recently, Andrea Zittel has had the opportunity to reflect on her entire past practice, first through her extraordinary touring North American survey show, Critical Space, and then with her stunning retrospective at the Schaulager, Basel (each with accompanying catalogue). With the insight of her entire oeuvre and the chance to install and see together so many large scale works from the past 18 years, Zittel returned to her studio with a newly formed focus and the freedom to work on a new series of intimate and nuanced works. Andrea Rosen Gallery is delighted to present Andrea Zittel's ninth solo exhibition at the gallery.
The history of art is composed of a succession of chapters, each detailing a particular moment when an ingrained rule or convention has been challenged or toppled. Yet for each rule broken, a new convention is reinstituted. The end goal seems to be not total freedom - but rather the opportunity for systems of belief, value and structure to continually reinvent themselves. It is my belief that rather then being the root of oppression, that some "rules" can become highly articulated gestures of creativity.
I feel that my own practice continually negotiates the fine line between emancipation and restriction, and in doing so reveals how creativity often stems from a reaction to a series of constraints. The works in this show attempt to bridge these concerns in both art and life and to show how problem solving and planning can result in a complex visual language.
In thinking about rules as acts of creation I have been recently drawn into a reinvestigation of logic based works such as Frank Stella's black paintings (in which the logic of the making fully embodies the resulting shape), Sol LeWitt's wall drawings (in terms of setting up a series of rules that can create a coherent visual structure), and incremental works such as Carl Andre's floor pieces (which also embody an element of time and distance because one is required to "travel" in order to view the entire work). All of these works have fundamental elements both formal and conceptual that have strongly influenced my own work. The consistent factor that I am looking at is the potential to establish a framework of process or usage, which then results in a related formal visual language.
The series of bronze hooks titled "Energetic Accumulators: Digits" mediate two kinds of order, both a serialized rigid and neutral order and the random order of the subjective unconscious.
The shape and functional associations of the hooks draw a range of objects to them. Though placed in casual and sometimes random and/or temporary arrangement, the accumulated objects are organized into a regulated system by the supporting armatures (digits). It is difficult if not impossible to hang a hook on a wall without soon thereafter placing something on it. They become a magnet for the detritus of life and living - and therefore an energetic accumulator. In the exhibition space the hooks become a temporary armature for some of my own personal accumulations, a group of sewing scissors inherited from my grandmother, a collection of tea bags that turn the act of consumption into an act of production.
The "Single Strand Shapes" utilize the technology of crochet, not for its hand-made associations, but because it is one of the purest examples of a systematic and incremental building system in which the form of the finished work is a manifestation of its underlying logic.
Each single strand shape begins with a set of "permissions" or rules. These include things such as "forward motion only," "90 degree turns only," "single plane" or "multiple planes" - there is never a set plan for what the finished work will look like, so all decisions are made in the moment, as long as they qualify within the prescribed set of allowed actions. Finally a finished work emerges - each one is unique - yet there is always a strong formal appearance which characterizes the set of prescribed permissions.
From time to time I have made drawings in order to more quickly study the results of various strategies with the crocheted works. A line drawn on paper functions in many ways which are similar to the strand; however, the line has a few unique abilities of its own which I've chosen to exploit. The drawn strand allows longer unsupported extensions then what would be actually possible in a round of crochet; also the width or thickness of each round can vary.
Both the crochet works and the drawings hinge on ways that mental structures (rules, systems, beliefs and habits) can result in visual or formal structures and patterns. These thought systems are also inherently related to movement and process - eventually manifesting in time/space patterns of everyday life.
In thinking about this time/space relationship of patterns and movement I became interested in the affinity of postmodern dance to works such as "Single Strand, Forward Motion" that also forge a relationship to cultural activities such as walking meditation, marching bands, and line dancing. The performance "Walking Patterns" initiates with a set of permissions that would be used to create a "Single Strand" work. The permissions become a score for a walking exercise. At the beginning of the performance the walkers begin in a parallel line walking to the rhythm of a simple percussive soundtrack, the sound of hands clapping. Each performer begins to walk a pattern based on a simple crochet element - the process of "linking chains" is translated to "walking steps", as the walkers walk out the "logic" used to make a single strand, forward
motion form.

- Andrea Zittel, January 2009

Performances of "Walking Patterns" will occur on Friday, February 6th between 6 and 8pm and on Saturday, February 7th at noon and 3pm. They are free and open to the public.