Dan Rees
28 Mar - 16 May 2009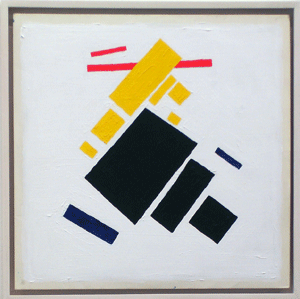 © Dan Rees
Malevic, 2009
Teil der Serie A Good Idea Is A Good Idea (2009 – ongoing)
Acrylfarbe auf Schallplattencover, 2 Schallplatten
34 x 34 cm (gerahmt)
DAN REES
"if it looks like it and feels like it"

28.03. - 16.05.2009

Opening: Friday, March 27th 2009 7 pm

We are pleased to announce Berlin-based artist Dan Rees' (*1982 in Swansea) first solo show in Austria: if it looks like it and feels like it.
In his works Dan Rees frequently resorts to forms, issues, strategies, and the history of conceptual art without imitating conceptual practices. He rather focuses on repeating and reproducing – and in doing so he is aware of an in time increasing divergence between a work's reception at the moment of its formation and communication and mediation on this work in future.
His work is characterised by strategies of appropriation: change and re-interpretation of art works. He creates systems of references, which, simultaneously react to the contents of historic works, for instance their historic background, and to historicisation and myth-building which go hand in hand with time-delayed art mediation. With Rees, art history meets his personal history; a reality in art meets the social reality of the artist: his works not only refer to art, and the artists behind it but are often developed in collaboration with others. In Variable Peace (2006 – ongoing) for instance, he plays ping-pong with Jonathan Monk or Simon Starling, respectively. For One Afternoon and Evening in Llanelli; an ode to Cerith Wyn Evans (2006) he let Cerith Wyn Evans make a choice from photographs which Rees had taken in the Welsh town Llanelli (Wyn Evans' home-town). In other works, collaboration is suggested, for instance in A Cup of Tea with Gavin Turk (2007) where Rees extends an existent paper work by Turk. By using recognizable forms and contents in art, Rees accentuates diffuse domains and clichés, and challenges the viewer's critical faculties.
In Vienna, Rees presents the exhibition if it looks like it and feels like it, in which beside a sound installation and prints, he also for the first time shows paintings and sculptures. In the main space viewers are confronted with black&white prints showing abstract colour fields: motifs from Mark Rothko which Rees had acquired as postcards, in order to transfer them to grey scales in Photoshop, and to exhibit them afterwards, enlarged, as poster format. Beside the Picture Postcard Posters his sound installation 2 cats locked in a room with a grand piano can be heard in the main space.
In the adjoining room one encounters a sculpture and paintings. The sculpture imitates the vocabulary of the abstract expressionism and refers strongly to the title of the exhibition – if it looks like it and feels like it. It was created in collaboration with the gallery staff. The paintings are pictures painted on record sleeves, which mirror the white surface of the canvas before its treatment – five copies of the Beatles White Album. On these, Rees has painted pictures in the style of Kippenberger, DeKooning, Mondrian, Halley, and Malevic. Here, Rees is working with models, which both in their original form and as reproduction possess a stark subjective character, and due to their clear signature refer back to the respective artist. While these works reflect the conceptual artist's desire for a signature, they adopt the dominant gestures of renowned artists and superpose Rees' signature – a doom loop, which in the end is marked by an immaterialisation of recognition that is immanent in conceptual art.