Judith Hopf
10 Mar - 21 Apr 2007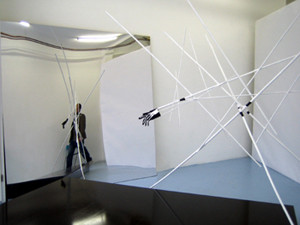 © JUDITH HOPF, Skelettdarstellung 2006
"What Do you look like - a crypto damonic mystery"
Casco, Utrecht
JUDITH HOPF

"What Do You Look Like / A Crypto Demonic Mystery" is the title for several groups of sculptures that Judith Hopf developed throughout 2006 and 2007, as well as of a performance following Dan Graham's: "Performer / Audience / Mirror" from 1975.
With the statement, "What Do You Look Like / A Crypto Demonic Mystery" Judith Hopf follows the assumption that nobody is capable of discovering what one looks like. This kind of "inner innocence" towards a visual (physical) "appearance" can be regarded as a condition for a flexible relationship: the relationship between the viewer and an object on view. It is a resource, namely in a potentiating sense: something you can create something from.
In the exhibition "What Do You Look Like / A Crypto Demonic Mystery Part Three: Galleria" Judith Hopf combines the documentation of her performative work with spacial installations and graphic works. While in her performative work the artist explores whether the relationship between corporeality and medial interaction, as shown in Dan Graham's performance, can be assigned to her own body and thus respond to the exterior, the objects, spacial interventions, and graphical works function as playful media between a possible interior and exterior, between subject and object concepts – things you can make something out of, for instance as tools contra the news evolving from reduction.
Judith Hopf has recently shown her work in the exhibition "No matter how bright the light, the crossing occurs at night" at the Kunstwerke, Berlin, and Extra City Antwerpen, as well as at the Secession in Vienna. On March 30th, the Portikus in Frankfurt will open a show with her works (presented with works by Henrik Olesen).